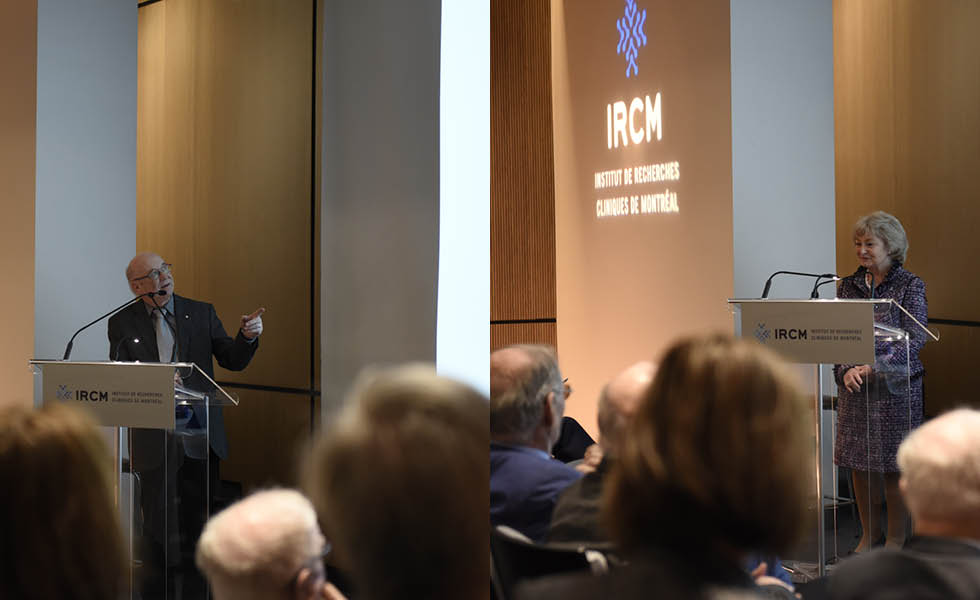 The Montreal Clinical Research Institute (IRCM) Foundation is pleased to announce a donation of $625,000 from the Fondation J.-Louis Lévesque.
The sum will support, among others, the research of Emilia Liana Falcone, Director of the IRCM's Microbiome and Mucosal Defence Research Unit and Physician at the Institute's Primary Immunodeficiency Clinic. The amount will also contribute to the work of Michel Chrétien, Emeritus Research Professor, and support academic activities organized by the IRCM's students, as part of the Marie and Willie Chrétien Fund.
This generous donation was announced on April 10, in the presence of the President of the Fondation J. Louis Lévesque, Suzanne Lévesque, as well as many of the Institute's partners and donors.
Louis Lévesque was born in Nouvelle, Gaspésie, on April 13, 1911 and passed away in 1994, in Montreal. He was the founder of the Crédit Interprovincial Limitée, an investment brokerage firm established in 1941. He then acquired many Quebec companies, including L.G. Beaubien Limited, which would become Lévesque Beaubien Inc., the largest Quebec brokerage firm. In 1961, Mr. Lévesque created the Fondation J.-Louis Lévesque, which supports many universities and medical research institutions.
"My father lived at a time when talented young adults could not go to university because of insufficient financial resources, and two members of his family died at a young age from illness. By establishing a foundation, he wanted to do his share to support education and health research. The research conducted at the IRCM is impressive, and I am pleased that our foundation can support it," said Suzanne Lévesque.
"We would like to thank Suzanne Lévesque for supporting the Institute and the Foundation," said Max Fehlmann, President and Scientific Director of the IRCM, and André Couillard, President of the IRCM Foundation. "Since its creation, the Fondation J.-Louis Lévesque has demonstrated its commitment to projects that aim to improve the well-being of society. This tradition of excellence is still ongoing, as demonstrates its support for the Institute."
The Foundation launches its planned gift program
The evening also marked the launch of the IRCM Foundation's new planned gift program. Planned gifts are available to everyone, regardless of their family or financial circumstances. This type of gift is accessible to all and can be adapted to suit everyone's situation. It can be used to make a significant bequest and can take many forms, such as a gift of life insurance or a testamentary gift.
The event was also the opportunity to announce the planned gift of Louis-Gilles Durand, a retired manager of the IRCM, who intends to leave as a legacy the amount raised from the sale of his impressive coin collection as well as a capitalized fund to which he and his spouse have contributed for several years.