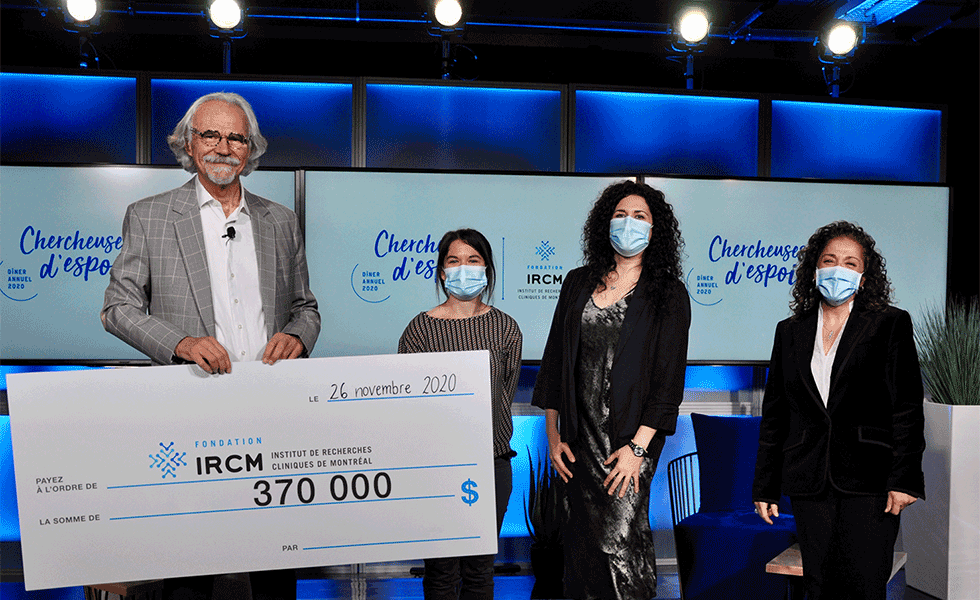 The traditional Annual Dinner of the Montreal Clinical Research Institute (IRCM) Foundation took place on November 26th. Reinvented in virtual mode due to the health constraints of COVID-19, the event ‌was a resounding success‌. Under the theme of Chercheuses d'espoir, highlighting IRCM women researchers, this unusual edition raised over $ 370,000.
For the occasion, over 300 participants gathered through a high quality digital platform, where they learned more about three IRCM women researchers and their research projects including their work on COVID-19, during an encounter hosted by journalist Catherine Perrin. In keeping with the Annual Dinner tradition, gastronomy played an important part in the evening, thanks to the aperitif cocktails delivered to each participant prior to the event. Participants were also offered an exceptional silent‌ ‌auction‌.
'The IRCM Foundation's Annual Dinner is a way for us to contribute to the outstanding and lifesaving work of our researchers. This year's pandemic has reminded us of the importance of health research,' declared‌ ‌‌copresidents‌ of honour, ‌ ‌Jean-Guy‌ ‌Goulet, ‌ ‌Chief Operating Officer at ‌Pharmascience‌, ‌and‌ ‌Alain‌ ‌Masse, ‌ ‌President‌ ‌of UAP.
'We are deeply thankful to our members and to our partners who have, once again, demonstrated their trust and commitment. Thanks to them, researchers at the IRCM will be able to continue their important work to help advance cutting-edge knowledge that will benefit us all, ' added André Couillard, president of the IRCM Foundation, and Max Fehlmann, President and Scientific Director of the Institute.
Since its inception, the IRCM Foundation's Annual Dinner has brought together business, research and life science communities, to raise funds in support of health research ‌at the Institute.‌ ‌To this‌ ‌day, ‌‌a‌ ‌total‌ ‌of ‌‌$‌‌‌ ‌‌4,4 million were donated to research through the event.