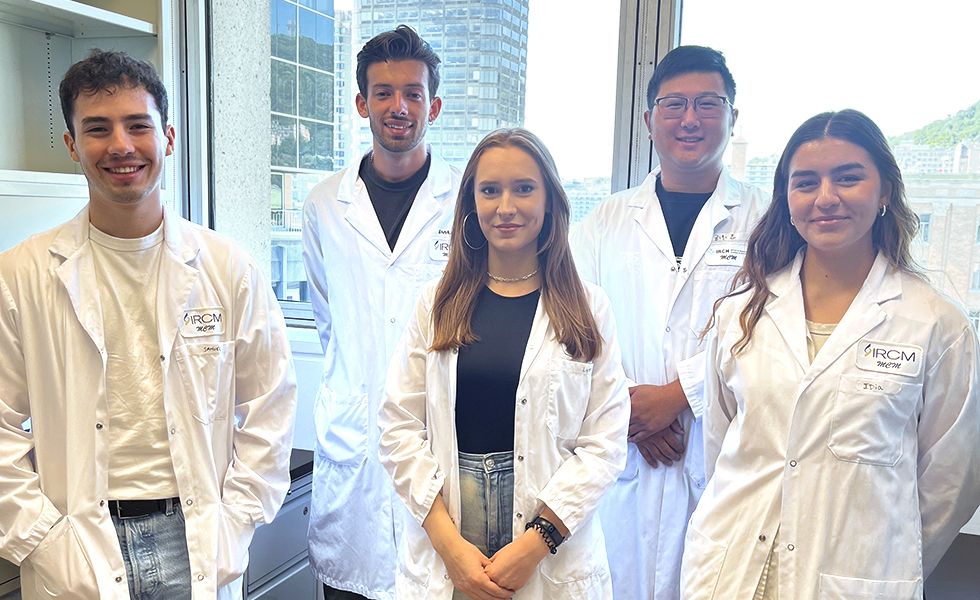 From left to right: Samuel De La Barrera (Québec), Andrew Issa (Québec), Maya Lynn Münzer (Germany), Ziqi Zhang (Manitoba) and Idia Boncheva (Québec).
These new recruits arrived at the IRCM recently, ready for the challenge. Each brings a different, but rich background to begin this master's degree in Molecular and Cellular Medicine (MCM) and thus acquire solid scientific training in molecular biology.
This unique one-year master's program was developed in collaboration with the Université de Montréal. It offers courses focused on issues in the biomedical field as well as two research internships in the Institute's laboratories. The multidisciplinary and in-depth training in biomedical research thus acquired helps facilitate the transition of students to the doctorate.
Like the previous ones, this new cohort will have the chance to perfect various cutting-edge techniques and learn to use sophisticated scientific tools thanks to the IRCM's ultra-modern core facilities: bioinformatics, genomics, microscopy, flow cytometry, etc.
At the end of this training, students are equipped to choose in an informed manner, a doctoral project adapted to their research interests, in order to continue to improve knowledge in human diseases.
We welcome this new cohort!