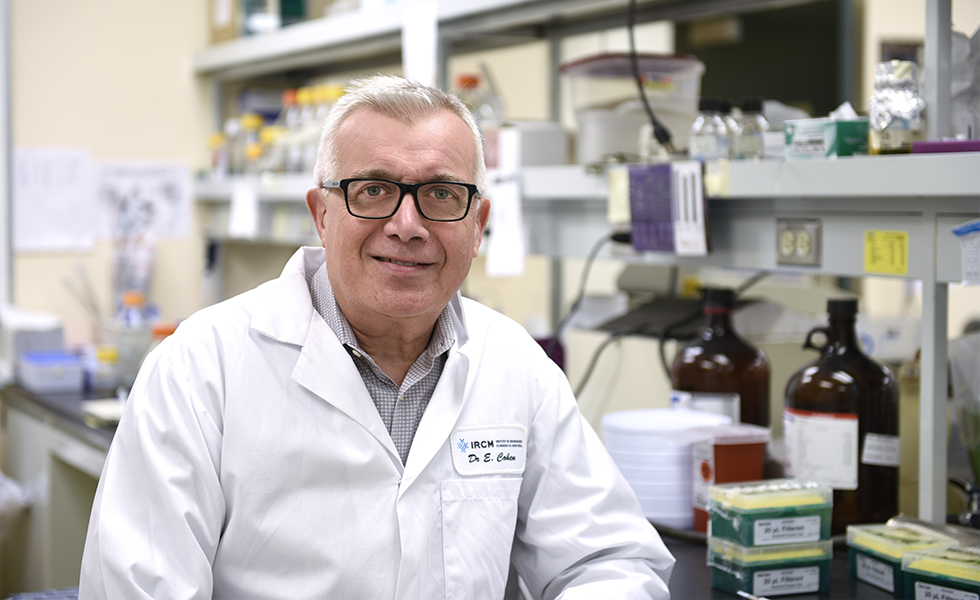 The Canadian Institutes of Health Research (CIHR) recently announced a $6 million grant to the Canadian HIV Cure Enterprise (CanCURE). Led by Eric A. Cohen, a researcher at the Montreal Clinical Research Institute (IRCM), this initiative brings together 19 collaborators and aims to address key gaps limiting the ability to cure HIV — by harnessing the synergy between basic and clinical researchers as well as groups of people living with HIV.
A collaborative success
The financial support will launch the second chapter of CanCURE, with research activities spanning from 2019 to 2024. Since its inception in 2013, the first iteration of the Consortium has stood out, involving every major player in the Canadian scientific community to develop therapeutic interventions towards an HIV cure. While current antiretroviral therapy (also known as ART) control very well HIV and associated diseases, these treatments are not curative.
"We believe that advances in HIV cannot occur in isolation, only in the laboratory. If we want to create the conditions to achieve a sustained remission in HIV-infected individual without the continuous use of antiretroviral therapy, the participation of patient groups and the clinical research community of physicians is essential for us to move forward," said initiative leader Eric A. Cohen, who also heads the Human Retrovirology Research Unit at the IRCM. "Extending our research through CanCURE 2.0 is a testament to the success of our approach."
Some facts and figures:
36.9 million people live with HIV worldwide
1.8 million are children under 15 years old
940,000 people died of AIDS-related illnesses in 2017
About 9.4 million people do not know they are living with HIV
59% of people living with HIV benefit from antiretroviral therapy
In Canada :
Between 55,500 and 70,720 people have been diagnosed with an HIV infection
2,165 new infections were reported in 2016
Sources: UNAIDS (2017), Public Health Agency of Canada (2018)
Tackling HIV's reservoirs
Currently, most HIV-infected patients benefit from antiretroviral therapy. This treatment, a combination of different drugs taken daily, reduces the ability of the virus to replicate as well as health complications of the disease and minimizes the risk of transmission. However, as soon as an infected person stops the treatment, these benefits disappear, forcing patients to use these drugs throughout their lives.
CanCURE's efforts aim to find new pathways to remission for HIV-infected individuals without the need for antiretroviral therapy. More specifically, researchers would like to better understand how, despite antiretroviral therapy, HIV manages to silently remain within certain cells (called "reservoirs") and develop treatments to eliminate or manage these reservoirs. Currently, the persistence fo these reservoirs in the presence of antiretroviral therapy represents the main obstacle for an HIV cure.
During the first phase of the program, researchers developed methodologies to identify and measure HIV reservoirs more accurately. They have also developed a multi-faceted approach to eradicating or managing these reservoirs. The collaborators behind CanCURE 2.0 will use this expertise to turn these breakthroughs into potential clinical applications. The research consortium also plans to map the reservoirs of HIV throughout the human body. Finally, CanCURE members will strive to understand how immune cell interactions promote the formation of certain HIV reservoirs, influencing the persistence and presence of the virus despite current antiretroviral therapy.
CanCURE collaborators
Principal researchers
Éric A. Cohen (IRCM), Petronela Ancuta (CHUM Research Centre), Jonathan B. Angel (The Ottawa Hospital and the University of Ottawa), Nicolas Chomont (CHUM Research Centre), Jérôme Estaquier (Quebec CHU Research Centre), Thomas T. Murooka (University of Manitoba), Jean-Pierre Routy (McGill University), Shari L. Margolese and Ron Rosenes (community research consultants)
Co-researchers
Donald William Cameron (The Ottawa Hospital and the University of Ottawa), Cecilia T. Costiniuk (MUHC), Emilia Liana Falcone (IRCM), Keith R. Fowke (University of Manitoba), Elie Haddad (CHU Sainte-Justine Research Centre), Mohammad-Ali Jenabian (UQAM), Ashok Kumar (CHEO Research Institute), Mario A. Ostrowski (University of Toronto), Christopher Power (University of Alberta), Michel J. Tremblay (Quebec CHU Research Centre)