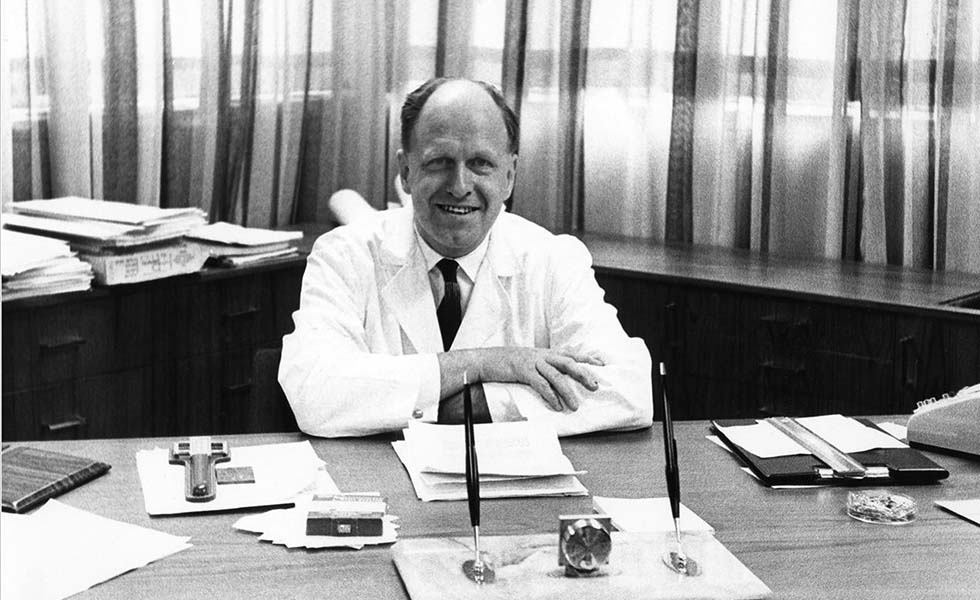 It is with great sadness that we announce the death of Dr. Jacques Genest Sr., founder of the Montreal Clinical Research Institute (IRCM).
Dr. Genest passed away on January 5, 2018, at the age of 98. He is survived by his wife Estelle, his children Paul, Suzanne, Jacques, Marie and Hélène, as well as twelve grandchildren and seven great-grandchildren.
The entire IRCM Foundation and community wish convey their deepest condolences to Dr. Genest's family. This eminent scientist will remain forever associated with our institute; we all owe him our highest respect and most sincere gratitude. The IRCM's success, its unique position in the field of biomedical research in Quebec and Canada, as well as its impact on clinical research around the world are largely attributable to Dr. Genest's work. The training of young scientists and researchers, which was at the heart of his vision, will ensure a productive and prosperous future for the institute.
In accordance with his wishes, a special mass will be held for family and close friends at 10 a.m. on Friday, January 12, 2018 at the Maison provinciale des Clercs de Saint-Viateur, 450 avenue Querbes, Outremont, H2V 3W5.
Your condolences to the family can be sent to Alfred Dallaire Memoria and testimonials of sympathy can be expressed through a donation to the IRCM Foundation. View the death notice.
Biography
Dr. Jacques Genest Sr. was born in Montreal on May 29, 1919. Upon completion of his bachelor's degree at Jean-de-Brébeuf College in 1937, he studied medicine at the Université de Montréal before going on to specialize in endocrinology, nephrology and internal medicine at prestigious Harvard Medical School, Johns Hopkins Hospital and The Rockefeller Institute for Medical Research.
As the founder of the IRCM, Dr. Genest was internationally renowned for the quality and impact of his research and discoveries. He contributed to the establishment of the Conseil de la recherche médicale du Québec in 1963, which then became the Fonds de la recherche en santé du Québec (Quebec Health Research Council). He also created the Canadian Clinical Research Society, of which he was president for two years, and the first department of biomedical research based in a francophone hospital in Quebec, as well as the Quebec Clinical Research Club.
As chairman of the Fonds de la recherche en santé du Québec from 1963 to 1969, Dr. Genest was awarded a grant of $3 million for the construction and organization of the IRCM, which was inaugurated in 1967. Nine years later, the first bioethics center in Canada was created thanks to the tireless and sustained effort of this distinguished scientist.
A figurehead in biomedical research in Quebec, and author of several major publications and research papers on arterial hypertension, Dr. Jacques Genest was invited countless times to share his knowledge of clinical research with experts and researchers all over the world. Considered a foremost leader in his field, from 1976 to 1978 he served as chairman of the Council for High Blood Pressure Research, an institution established by the renowned American Heart Association. Furthermore, his research team was responsible for the discovery of atrial natriuretic peptide (ANP), the structure of a hormone extracted from cardiac tissue and a dominant factor in the control of sodium and water excretion of the kidney. He was also Professor Emeritus at the University of Montreal.
In 1967, Dr. Genest was made a Companion of the Order of Canada, and in 1991 a Grand Officer of the Ordre national du Québec and Commander of the Ordre de Montréal. This eminent scientist holds 12 honorary doctorates attesting to his contribution to medical research. The Alpha Omega Alpha Honor Medical Society, the Josiah Macy Jr. Foundation and Harvard Medical School selected him for the Leaders in American Medicine series.
Dr. Genest is widely recognized by his peers and is the recipient of numerous distinctions, notably the Marie-Victorin and Armand-Frappier awards (Quebec), the Canada Gairdner International Award, the Stouffer Award, the Izaak Walton Killam Award, and the Flavelle Medal presented by the Royal Society of Canada. He is a laureate of the Canadian Medical Hall of Fame and the Royal Bank of Canada Award.
Dr. Jacques Genest is the author of over 700 articles and four books.