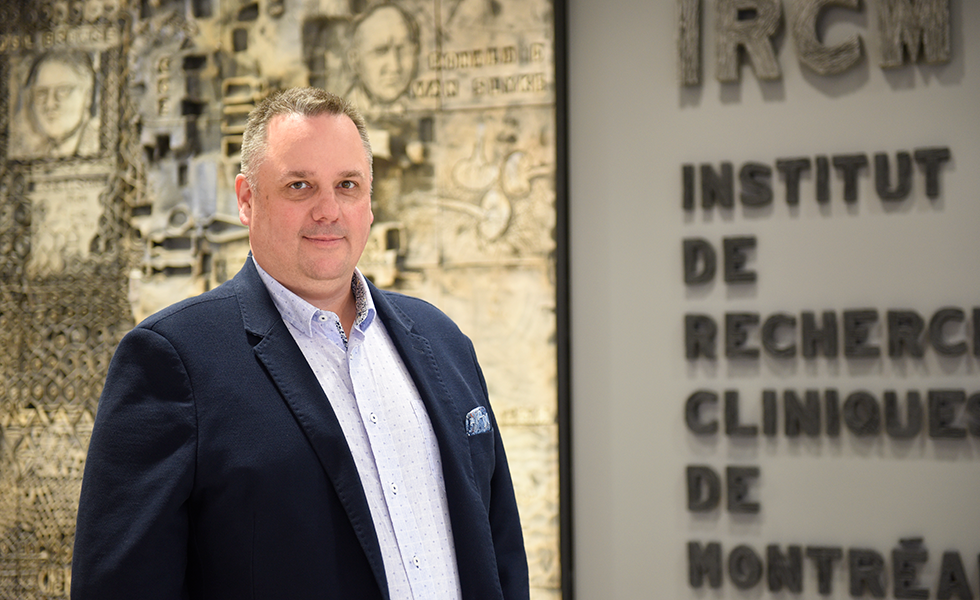 Mr. Richard Mayrand, Chairman of the IRCM Board of Directors, is pleased to announce the confirmation of Dr. Jean-François Côté as President and Scientific Director of the Montreal Clinical Research Institute (IRCM). Having been with the IRCM for 17 years and already acting as Interim President and Scientific Director since July 2021, Dr. Côté has demonstrated an engaging leadership and has developed a strong bond of trust with the IRCM community.
"Continuing the tradition of excellence in basic and clinical research, training the next generation of scientists and rallying all staff behind the Institute's mission are among our priorities. As a high-level scientist as well as a leader who listens, Dr. Côté has the profile to meet the challenges of this complex position. We are extremely pleased to confirm him in this role," said Mr. Mayrand.

A Leader and a Recognized Researcher in Oncology
In addition to his leadership qualities, Dr. Côté is an internationally renowned researcher who has made several important advances in oncology. For the past 17 years, he has led the Cytoskeletal Organization and Cell Migration Research Unit at the IRCM. He is internationally recognized for his research on metastasis. He is a Full Research Professor in the Department of Medicine at the Université de Montréal and an Assistant Professor in the Department of Anatomy and Cell Biology at McGill University. Moreover, he holds a new Canada Research Chair in Cell Signaling and Metastatic Cancer (Tier 1). The main objective of the Canada Research Chairs Program is to recruit and retain the best researchers in the country. Tier 1 Chairs are awarded to world leaders in their field and last seven years.
Dr. Côté is a graduate of the Université de Montréal (B.Sc. in biochemistry), INRS Armand-Frappier (M.Sc. in biology), McGill University (Ph.D. in biochemistry) and completed postdoctoral studies at the Sanford Burnham Prebys Medical Discovery Research Institute in La Jolla, California.
" Being able to contribute to propelling the IRCM, this jewel of science and advanced care in Quebec, towards a promising future and new scientific avenues focusing on our fellow citizens' well-being, is what motivates me daily. I would like to thank the Board of Directors for their trust," said Dr. Côté.

About the IRCM
The IRCM is an internationally renowned biomedical research institute located in the heart of Montreal's academic community. Founded in 1967, the IRCM was the first research center in Quebec to bring together basic researchers and clinicians under one roof. A unique model at the time, the IRCM is now one of the most successful research centers in the country, committed to nurturing the next generation of scientists at the highest level. The IRCM has distinguished itself in many areas of the life sciences, including promising work in the field of messenger RNA and the study and treatment of the long form of COVID, as well as in the field of rare diseases.