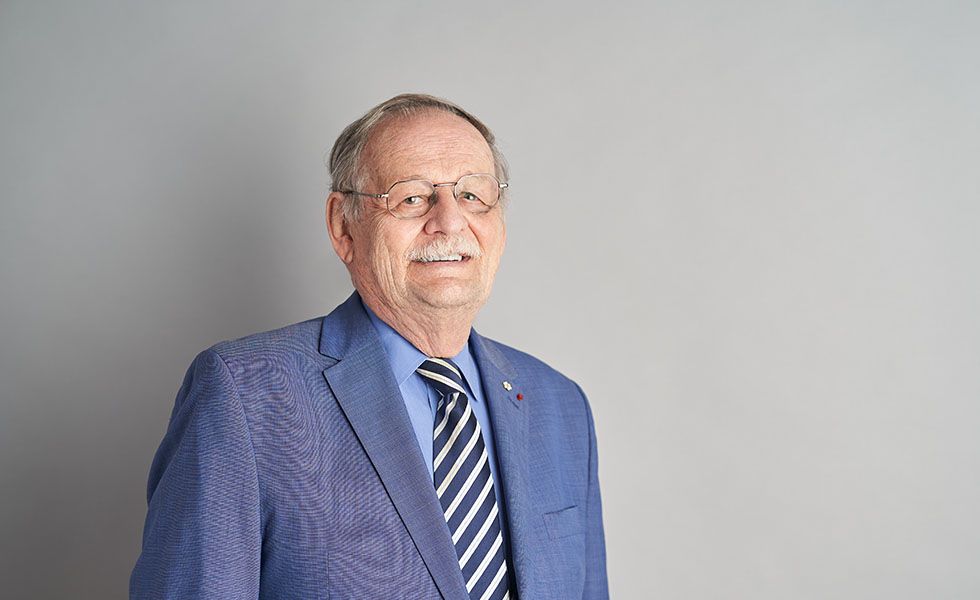 Congratulations to Dr. Michel Chrétien, researcher emeritus at the IRCM, who became a Grand Officer of the Ordre national du Québec on June 22. Dr. Chrétien, who has been Officer of the Ordre since 1994, is thus promoted to the highest distinction of the Ordre.
A living memory of the IRCM, Dr. Chrétien has distinguished himself on the world's scientific stage for decades, as a pillar of Montreal medical research. As a physician and an endocrinologist, he published the prohormone theory in 1967. The same year, he joined the IRCM, where he founded the Molecular Neuroendocrinology Research Unit and created the first protein chemistry laboratory in Quebec. As Director of the IRCM from 1984 to 1994, he propelled the Institute to new heights in terms of scientific productivity as well as national and international visibility. Since 1967, his prohormones theory has enabled him to discover the β-endorphin and to broaden the field of endoproteolysis, including prohormone convertases. This theory remains of great scientific and medical relevance to this day, both in the fields of metabolism (diabetes, obesity, cholesterol) and that of atherosclerosis, cancer and viral infections. It has also given rise to new therapeutic avenues against the metabolic syndrome.
Several years after the usual retirement age, Dr. Chrétien is still active as Director of the Functional Endoproteolysis Laboratory at the IRCM. He authored more than 600 scientific publications and has been a remarkable mentor for more than 70 young researchers, many of whom have pursued exceptional academic careers. Holder of the most prestigious distinctions and appearing in the Larousse dictionary, the reputation of this great scientist is well established. Read his full biography.
About the Ordre national du Québec
Founded in 1984, the Ordre national du Québec is the most prestigious recognition awarded by the Quebec Province. In 2022, thirty-two people were honored with one of the three ranks of the Ordre, during a ceremony that took place at the Parliament Building and was broadcast live on both the television channel and the website of the National Assembly of Quebec, as well as on the site of the Ordre.
"The IRCM is proud to have in its ranks such a man and researcher who makes the scientific community of Quebec shine well beyond our borders", said Dr. Jean-François Côté, President and Scientific Director of the IRCM.