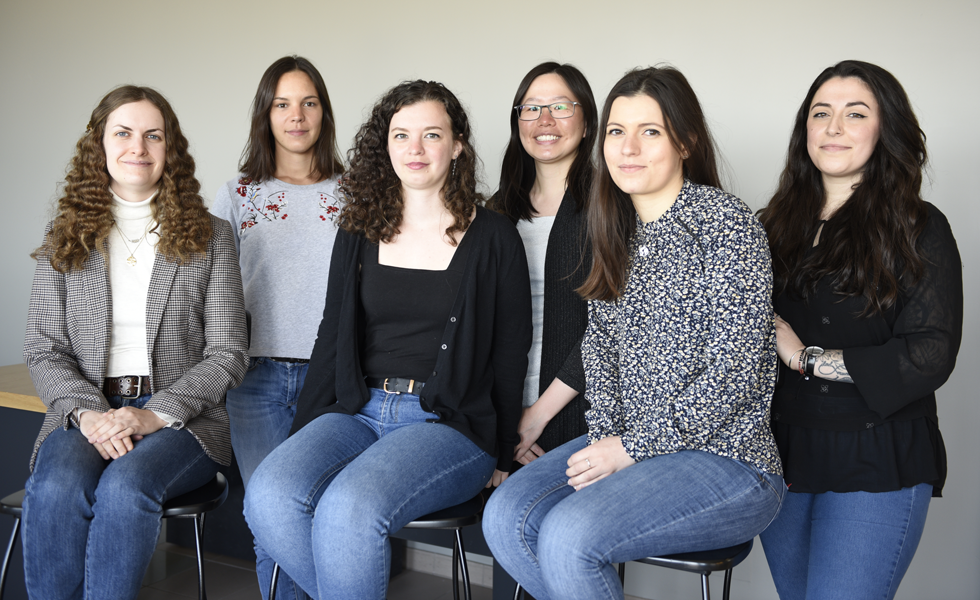 For the next edition of EFFERVESCENCE, from May 10 to 12, the next generation of scientists trained at the IRCM will be well represented, thanks to the attendance of six trainees known for their excellent academic background. This unique opportunity will allow them to come and meet the stakeholders of the field, in order to reflect and discuss the issues to come, while exploring the many interesting careers options.
Two of them, Chloé Apcher and Rebecca Cusseddu, were selected among the ten participants of the popularization session Tell your research in 180 seconds. The other four - three graduating PhD candidates and a postdoctoral fellow - eagerly accepted the Institute's offer to participate in this flagship event of the Canadian life sciences and health community. They share their enthusiasm:
This event comes at the perfect time for my career development as I'm currently finishing my PhD at the IRCM. The Effervescence seminars and training sessions will be a great occasion to explore the diversity of scientific opportunities from academia to entrepreneurship, and in particular, to gain exposure to the industries within the life science and healthcare sector. Furthermore, as a student of the Lécuyer RNA lab, I'm highly interested in attending and supporting the IRCM plenary session on RNA, where my supervisor will be presenting alongside reputable leaders in the RNA field. I hope to personally meet and network with the panellists during this highly anticipated event. Ashley Chin
Currently in my last year of postdoctoral studies in the laboratory of Dr. Marie Kmita, I would like to start my job search for next year. Given my interest in pursuing my scientific career in the industry in Quebec, EFFERVESCENCE will allow me to connect with professionals and companies looking to recruit. It will also be an opportunity to extend my network within the Canadian scientific community. Ines Desanlis
I am delighted for the privilege of participating in EFFERVESCENCE 2022 as a doctoral candidate in bioethics in the Pragmatic Health Ethics Research Unit. I look forward to attending the Job Fair to familiarize myself with the professional opportunities available in the private sector. It is also with great interest that I will attend the panels on rare diseases, "living labs" and responsible health innovation, which will enrich the knowledge I acquired during my master's and my doctorate in bioethics at the IRCM. Ariane Quintal
As I am currently in the last year of my doctorate, I would like to learn more about the different options available for my future career, especially in the industry. Effervescence is an opportunity to meet professionals from the pharmaceutical industry and entrepreneurs in technology and health. I hope to get advice or guidance from them and thus expand my professional network to improve my chances of finding a job in this field. Celine Schott
The IRCM is proud of its next generation of excellent scientists!