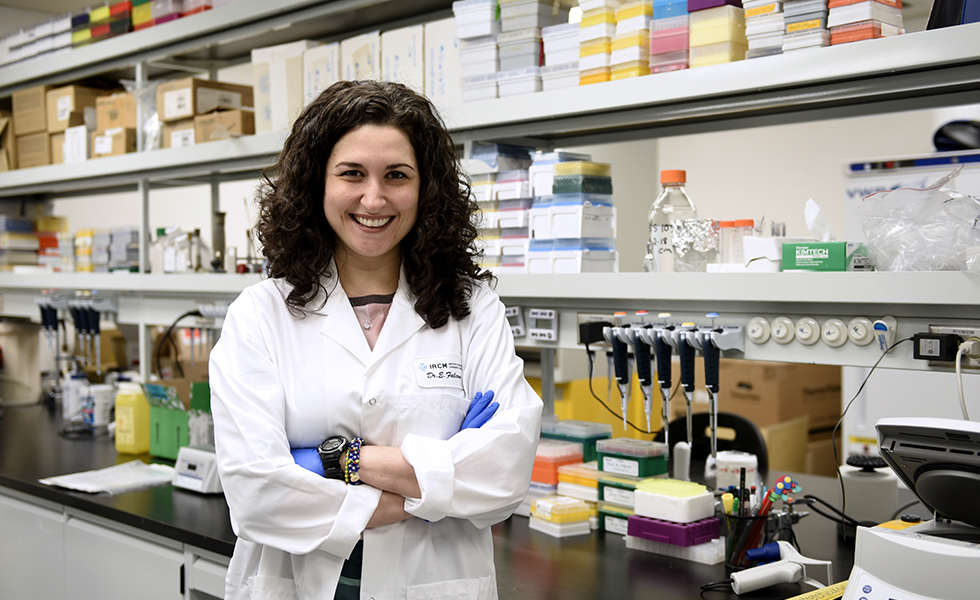 The Montreal Clinical Research Institute (IRCM) is pleased to announce the establishment of a new Canada Research Chair that will help understand and treat inflammatory bowel disease. Led by researcher and physician Emilia Liana Falcone, the Canada Research Chair in the Role of Microbiome in Primary Immunodeficiency will study the influence of gut bacteria, also known as intestinal microbiota, on inflammatory bowel disease.
One in 140 Canadians suffers from inflammatory bowel disease. Interestingly, several genes linked to inflammatory bowel disease have also been associated to inherited defects of the immune system, also known as primary immune deficiencies. In fact, up to half of patients with a primary immune deficiency also have inflammatory bowel disease.
Emilia Liana Falcone is Director of the IRCM's Microbiome and Mucosal Defence Research Unit and a physician at the Institute's Primary Immunodeficiency Clinic. After spending eight years at the National Institutes of Health studying patients with rare primary immunodeficiency, she has established at the IRCM a unique research program in Canada aimed at increasing our understanding of inflammatory bowel disease.
The findings from Dr. Falcone's research may not only change how we understand and treat patients with inflammatory bowel disease associated with primary immunodeficiency but may also uncover new approaches for the treatment of IBD in the general population.
About the Canada Research Chairs
The Canada Research Chairs Program stands at the centre of a national strategy to make Canada one of the world's top countries in research and development. Its purpose is to attract and retain a diverse cadre of world-class researchers, to reinforce academic research and training excellence in Canadian post-secondary institutions.