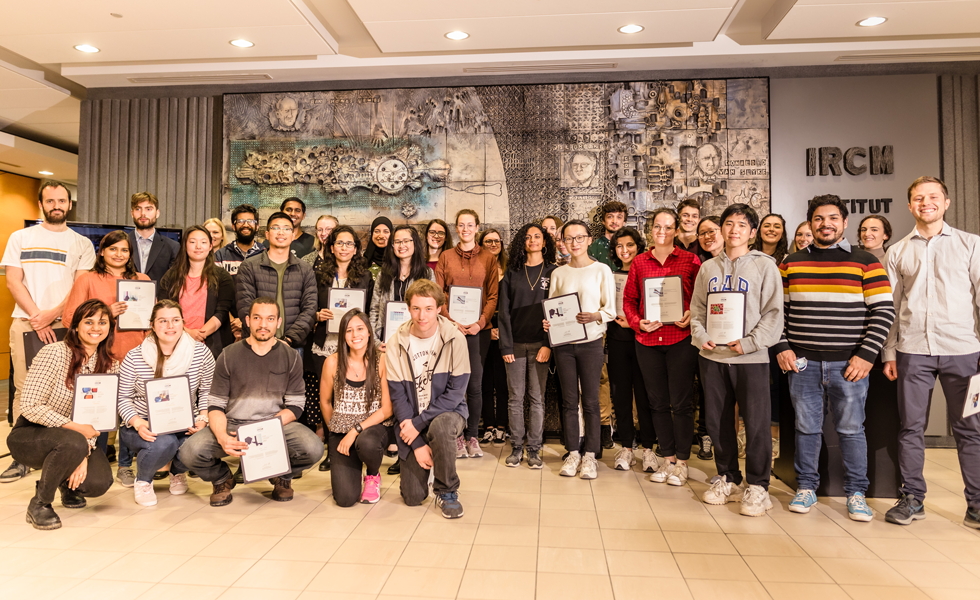 On May 19, the IRCM Foundation held its traditional Recognition Evening, a special moment to highlight the excellence that is taking place in our community. The event was a great opportunity to meet up in the flesh after the long months of imposed distance.
Scholarship awards: a rich harvest in 2021
There is no shortage of emerging talent at IRCM. Several of them have been rewarded by scholarships awarded by generous donors and by our Foundation thanks to the IRCM Challenge. The Foundation is proud to be able to contribute to the training of a new generation of high-level researchers whose work at the IRCM contributes fully to the scientific advances made in the Institute's labs. This year, the Foundation awarded more than $373,000 in scholarships to students from the internal community
Summer internship / IRCM Challenge Scholarship Mathilde Cassou, Shreya Mahasenan, Émilie L'Heureux-Hubert, Emmanuelle Del Guidice, Maya DeCruz, Noémie Bélanger
IRCM Challenge Scholarships Samantha Boudreau, Paul Donnelly, Shayesteh Kiani, Fanny Guérard-Millet,
IRCM Challenge Scholarship - Manulife Luke David
IRCM Challenge Scholarship - RBC Mathieu Joseph
Louis-Gilles Durand Scholarship Sung Soon Park
IRCM Challenge Scholarship - Guépards et Gazelles Gourmands Nicolas Chofflet
Jacques-Gauthier Tribute Scholarship Fatima Kassem
Emmanuel-Triassi Scholarship Thulaj Meharwade
IRCM Foundation Scholarships Sarah Hales, XinYing Zhang, Pedro Franca, Megan Sholomiski, Rachelle Sauvé
Michel-Bélanger Tribute Award Vivian Hyunh
Cellular and Molecular Medicine Fellowship Johanna Kaufmann, Klara Metzner, Yasmin Awad
Jean-Coutu Scholarships Zeinab Dalloul, Hugo Ducuing, Marcelo Maximiliano Rodriguez, Racheal Paul, Rodrigue Peraldi, Pudchalaluck Panichnanta
Angelo-Pizzagalli Scholarship Sharmin Begum
IRCM Internal Community Excellence Fund Award
Pierre-Bois Emilia Liana Falcone
Vincent-Castelluci Judith Cotton-Montpetit
André-Barbeau Ashley Chin, Marion Lacroix
Dr. André Veillette, first recipient of the Outreach Award from the Clinical Research Institute of Montreal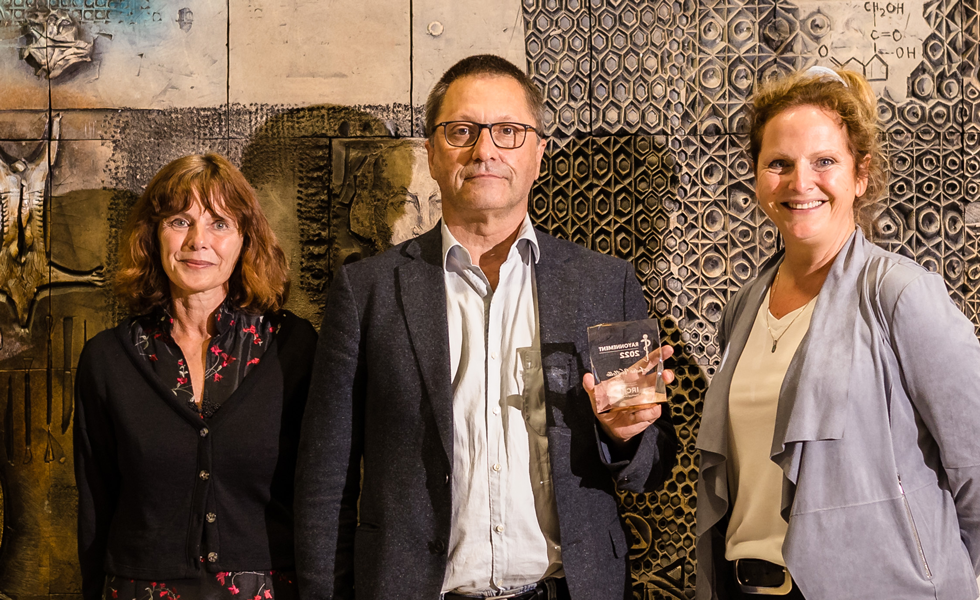 The evening also saw the presentation of the new IRCM Outreach Award. The winner, Dr. André Veillette, was presented with the award by host and science journalist Sophie-Andrée Blondin.
This award recognizes the sustained efforts of a scientist to popularize, explain and clarify crucial scientific issues that have an impact on the health of citizens, particularly through the media.
''Since the beginning of the pandemic, Dr. Veillette has never ceased to share his knowledge and passion for health research with the public, exchanging daily with journalists of all levels and underlining the importance of health research in our lives," said Dr. Jean-François Côté, Scientific Director and Acting President of the IRCM.
Bravo, Dr. Veillette! Bravo to all of you!