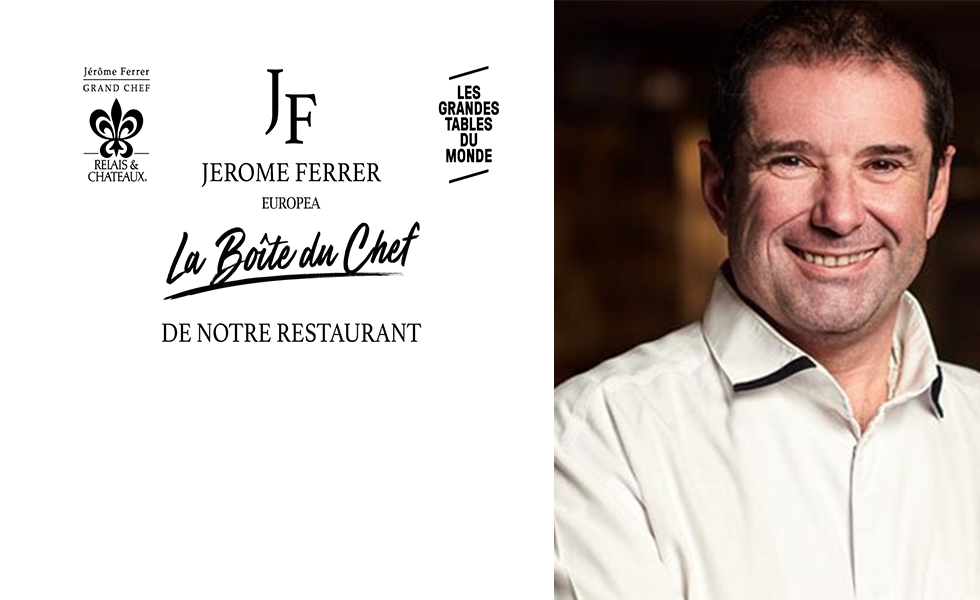 To support efforts to fund a million-dollar research project on primary immunodeficiency diseases (PID), the IRCM Foundation called on chef Jérôme Ferrer to offer delicious gourmet boxes to Montrealers. For the occasion, the renowned chef has concocted a Surf & Turf menu for two, which will delight epicureans, in addition to helping to fund research to improve the quality of life of people suffering from PID.
Primary immunodeficiencies are a group of rare and chronic diseases caused by abnormalities in the immune system. The initiator of the project, Sylvain Corbeil, has suffered from a PID since the age of 6. "This hereditary disease had a huge impact on my life. I have been hospitalized over a hundred times and have seen other family members suffer from it. That's why this cause is particularly close to my heart, 'he says. 'Fortunately, we were able to count on good care right here in Montreal, at the IRCM. The Institute has a formidable team of researchers and clinicians whose primary goal is to solve health problems, including rare diseases such as PDI. These dedicated professionals are constantly on the lookout for new knowledge that can improve available healthcare. '
The mentioned research project is directed by Dr. Emilia Liana Falcone who wishes to deepen our understanding of hereditary angioedema type 1. This form of PIDmanifests itself by recurrent episodes of swelling of the face and even of the internal organs. When it affects the airways, as in 25% of cases, this disease becomes fatal. Using artificial intelligence, Dr. Falcone hopes to understand the triggers of the disease in order to reduce and control episodes and improve the quality of life of people suffering from it.
The public is invited to participate in this fundraising effort by purchasing a gourmet Surf & Turf box for two, signed by chef Jérôme Ferrer, which includes:
Snow crab (260g)
Garlic butter (400 g)
Red vegetable soup cream with coconut milk and basil (500 ml)
Israeli couscous tabbouleh with mint (500 g)
Beef rib (portion of 22 oz)
Gratin Dauphinois (2 portions)
Strawberry and rhubarb tartlets in crumble crust (2 servings)
This inspiring menu comes with a bottle of wine valued at $ 50. This IRCM gourmet box is offered at $ 300 and is available here. Hurry up! Boxes are on sale until June 30th only!
Furthermore, those who wish to make an even greater contribution have the opportunity to personalize their bottle of wine with an additional donation. Here is the list of options offered:
| | | | | |
| --- | --- | --- | --- | --- |
| Options | Cost | Number of boxes | Wines | Tax Receipts |
| Boxe | $ 300 | 1 | 1 bottle chosen by the chef | $ 135 |
| California | $1,000 | 1 | 1 bottle from California | $ 835 |
| Tuscany | $ 2,500 | 2 | 2 bottles from Tuscany | $ 2,170 |
| Bordeaux | $ 5,000 | 3 | 3 bottles from Bordeaux | $ 4,505 |
| Burgundy | $ 7,500 | 4 | 4 bottles from Burgundy | $ 6,840 |
| Donation | Other donation | 0 | 0 | According to donation |

All of the proceeds will be dedicated to this important research project and tax receipts will be issued by the IRCM Foundation.
On behalf of all people facing PID who will benefit from this research, the IRCM thanks in advance all those who will support this project by acquiring a box. Beyond this great gastronomic experience, your generosity will improve the lives of people, children, adults and families, who suffer daily from this terrible rare disease.