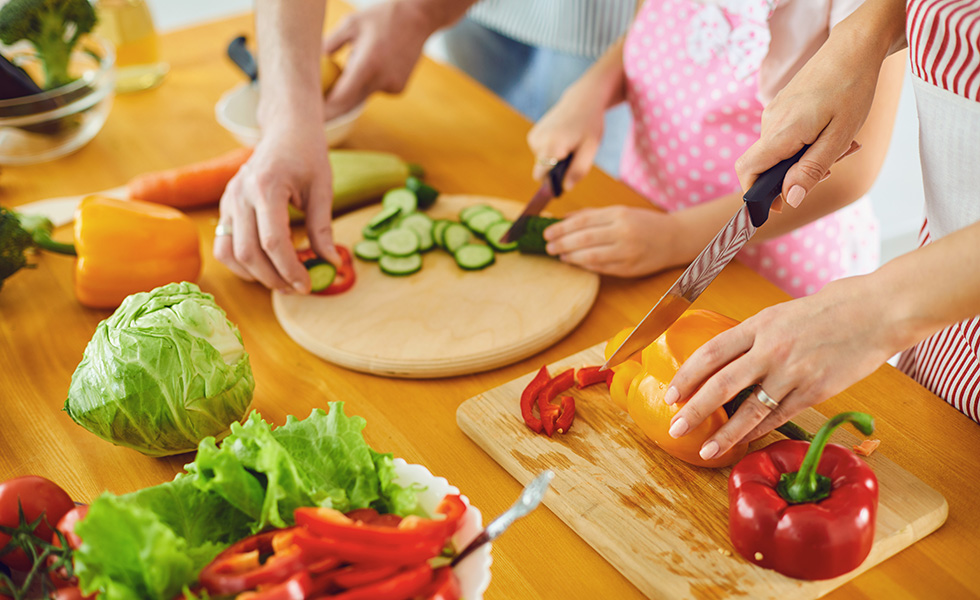 In this period of confinement due to Covid-19, sedentary habits and poor eating behaviours represent a risk and a source of concern for many. How to keep eating well? Why not take advantage of this time to rethink our nutrition or to integrate healthy habits that have been neglected for too long?
Your IRCM nutritionists are sharing practical tips and tools that will help you face today's challenges:
1- How to make healthy choices on a tight budget, keep a good pantry inventory and identify must-have products?
First, if your food budget is tight, check out the deals of the week, buy food that you can cook yourself, avoid processed or pre-prepared dishes that are richer in fat and salt and look for frozen or canned products that have a longer shelf life and favour inexpensive proteins such as legumes, tofu, canned fish or eggs.

Limit food waste by making a regular inventory of your refrigerator, freezer and pantry - which sometimes hide forgotten meals - before heading to the supermarket. Be creative and try new recipes!

Favours buying locally to encourage the Quebec economy. To do this, discover the local stores in your area, see Ricardo's suggestions in collaboration with Les Aliments du Quebec for eating locally during this quarantine period and discover the essentials in quarantine as well as the pantry basics.
2- How to ensure good food hygiene and safety?
In these pandemic times, food safety is particularly important.
Wash your hands after returning from the grocery store, before cooking and after eating. Washing fruits and vegetables well as well as your kitchen countertops is also essential. Note that these precautions are recommended even in the absence of a pandemic.

Limit your grocery store visits as much as possible by planning meticulously. For more information, visit the MAPAQ website (consumer section) and discover some tips from Ricardo to limit trips to the grocery store.
3- How to manage our weight in the context of a disturbed eating routine?
Keeping control over your weight management can be more difficult in confinement. To succeed:
Maintain a stable meal schedule and avoid skipping meals.

Watch for hunger and satiety signals and snack only when needed. Discover tips to better listen to your hunger and satiety.

Avoid having tempting foods high in energy, fat, salt or sugar at home.

Avoid eating after supper or snacking until the next morning.
4- How to properly plan in order to limit visits to the grocery store?
Planning ahead a balanced weekly menu makes it easier to shop for groceries and helps limit food waste.
Show up at the grocery store with an exhaustive list of ingredients according to your weekly menu and the current content of your pantry

Take into account the quantities required to cover a week or more depending on your storage capacity.
5- How to eat simple and balanced meals?
The quarantine is an opportunity to discover new recipes or learn to cook better. It is a family activity that is both an enjoyable and fun learning experience that will serve children for years to come.
The websites are full of simple recipes that require only a few easy-to-access ingredients. For several healthy and balanced tips and recipes, visit the blog of the nutritionist Geneviève O'Gleeman, Ricardo's website, and the Nutrition Month Recipes (March 2020). Inspire yourself from these recipes to build your varied weekly menu.

A healthy diet involves a daily intake of fruits and vegetables, lean vegetable or animal proteins, whole-grain products (such as oats, wheat bran, barley, quinoa) and lean dairy products. Water remains the best hydration option. Sugary drinks, fruit juices and alcoholic drinks rich in sugar, calories and alcohol are to be avoided.
Despite what we can sometimes read on the internet, no food or diet can prevent or cure COVID-19 infection. However, to maximize the chances of staying healthy, maintaining good eating habits is essential.
Stay tuned for upcoming tips and stay healthy!