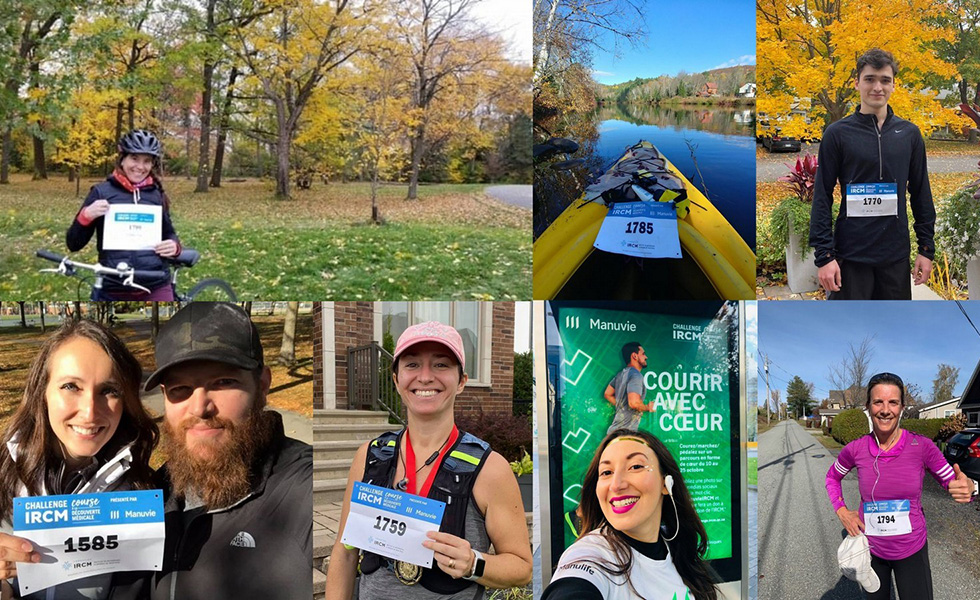 In the midst of the pandemic, the 11th edition of the IRCM Challenge took place between October 10 and 25, 2020, raising more than $ 160,000 for cutting-edge medical research. This out of the ordinary edition demonstrated the unwavering loyalty of IRCM's donors and friends to the Institute's mission. Due to sanitary conditions, making the usual gathering of several hundreds of people impossible on the Mount Royal site, the IRCM Foundation made a bet that participants would be just as keen on a remote formula. And it was right.

Under the theme Run with heart, over 337 participants ran, walked and cycled their IRCM Challenge itinerary in support to the cause. Many shared their involvement on the Foundation's social platforms, showing a strong unity of heart, even from a distance.

"Even in the midst of a pandemic, research to improve medical knowledge on all diseases must continue in order to save lives. The great participation of the community in this context shows just how much Montrealers are committed to helping us in the pursuit of our mission. We are deeply touched by this," agreed to say André Couillard, President of the IRCM Foundation, and Max Fehlmann, President and Scientific Director of the IRCM. "A special thank you to our many volunteers, the ambassadors of the IRCM Challenge Committee and more particularly to the president of the Committee, Isabelle Cantin."

Among the participants were patients from the IRCM clinic and members of the Institute community, as well as health and research professionals and numerous members of the public who are sensitive to the cause.

"Manulife is once again partnering with the IRCM Foundation. We are thus reaffirming our commitment to be an active member in the communities where we operate, in order to help Canadians improve their health and quality of life. The IRCM Challenge is a sports challenge that gets us moving and that will generate significant revenue to accelerate innovation and discoveries in health," said Alexis Gerbeau, Manager, Manulife Quebec.

"I am 28 years old and without the IRCM Clinic, I could have already had a heart attack. This is why I am participating in the IRCM Challenge," added Thierry Drouin-Paquette, IRCM patient and spokesperson for the Challenge 2020."

Since its creation in 2010, the IRCM Challenge has raised over $925,000.