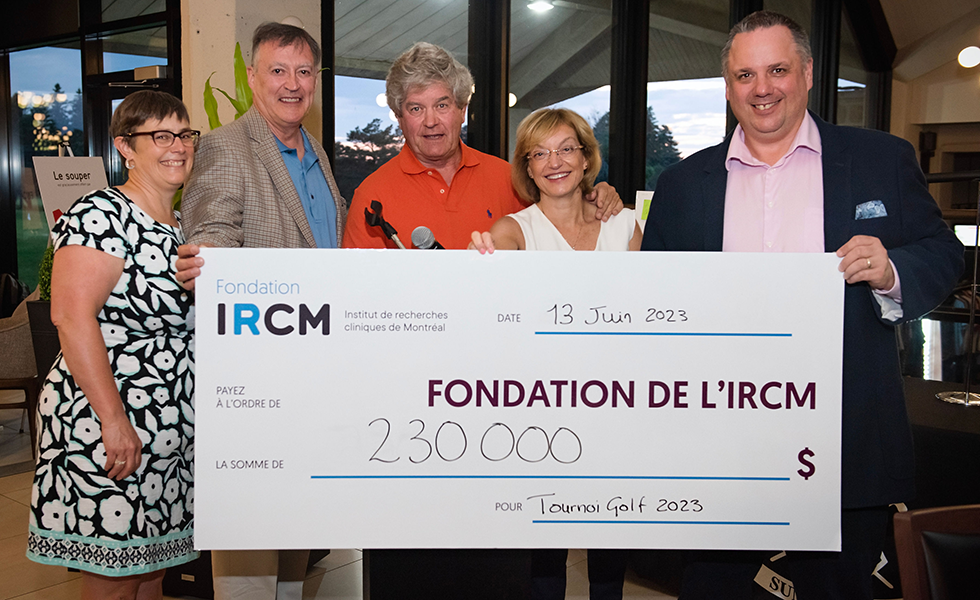 From left to right: Marie-Bénédicte Pretty (Executive Director of the Foundation), Serge Boileau (President of the Ambassadors Committee), André Couillard (President of the Foundation), Nathalie Parisel (General Manager of Nedco Québec and Honorary President) and Jean-François Côté (President and Scientific Director of the IRCM).
The traditional IRCM Foundation Golf Tournament - Parcours santé took place on Tuesday, June 13 at Summerlea Golf Club and set a new record for the event. $230,000 were raised for basic and clinical research at the Montreal Clinical Research Institute (IRCM).
Over 250 people gathered under the aegis of honorary president Nathalie Parisel, General Manager of Nedco Québec, to enjoy a sporting and networking day, while supporting the work of IRCM scientists. The day was rounded off by an exceptional auction, masterfully conducted by former Montreal Canadiens star Yvon Lambert, and a delightful dinner. Various speeches enabled guests to learn more about the IRCM's areas of research as well as realizing the importance of their support.
The funds raised for this 21st edition will be used to acquire new, state-of-the-art research equipment for IRCM researchers.
This year's event was made possible by the involvement of numerous sponsors from the business community.
"Year after year, our loyal partners attend this event, which has an invaluable impact on for research. By enabling the acquisition of high-performance scientific equipment, their generosity increases research possibilities and makes new discoveries possible," said André Couillard, President of the IRCM Foundation.
"At the IRCM, we are grateful for the immeasurable support of the donors and partners who help the IRCM Foundation carry out its mission. Their trust and commitment are a great source of motivation for our scientific community," confided Jean-François Côté, President and Scientific Director of the IRCM.
Proud of this success, the members of the organizing committee are already looking ahead to the 2024 edition!
Visionary Partners
Nedco Québec and National Bank of Canada
Innovative Partners
Bell, Bibby-Ste-Croix, Construction J.P. Roy, CMS Entrepreneur Généraux, G-Tek, Infrastructel, Ipex, Lécuyer Béton, NRJ Environnement Routier, Prosign Québec, Schneider Electric and Groupe TCI.