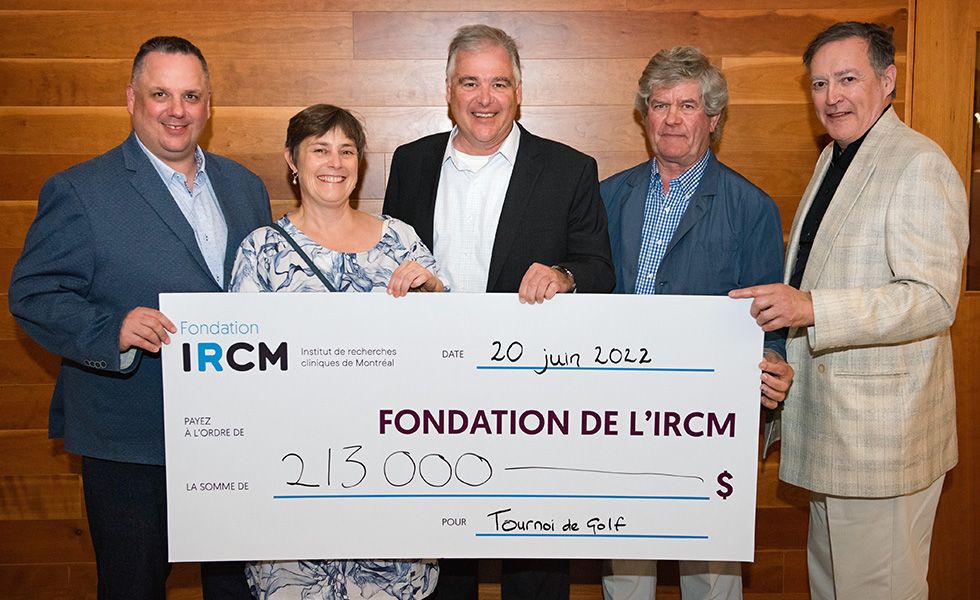 From left to right : Jean-François Côté, Marie-Bénédicte Pretty, Éric Léveillé, André Couillard and Serge Boileau.
The 20th edition of the IRCM Foundation's Parcours Santé Golf Tournament was held on Monday, June 20 at the Summerlea Golf Club in Vaudreuil-Dorion, under the honorary presidency of Éric Léveillé, National Director of NAPA/CMAX and NAPA Quebec Major Accounts, and with Nedco Rexel Group as honorary partner.
Thanks to the participation of 230 golfers, $213,000 was raised during the event, which will be used to support the acquisition of state-of-the-art research equipment for IRCM researchers.
"The last few years have made us all realize how essential health research is in order to be able to react quickly to public health situations that affect the entire population. Even in a pandemic, we must not lose sight of the importance of health research for all other diseases. Once again this year, the IRCM Foundation is grateful to be able to count on the support of the Parcours Santé Golf Tournament's partners and friends," said André Couillard, President of the IRCM Foundation. More than ever, funding for health research remains essential. In order to pursue the excellence of their work, our researchers must have access to the best scientific equipment available.
In a relaxed and cheerful atmosphere, the players enjoyed the magnificent Summerlea golf course. In the evening, they enjoyed a pleasant meal, a silent online auction as well as a well animated on-site auction. The latter was expertly conducted by Michel Beaudry, a man of many talents who has been active on the Quebec scene for many years.
The IRCM Foundation would like to thank all the participants, the members of the tournament ambassadors committee and the volunteers who made the event possible. The Foundation is also particularly grateful to the event's major partners.

Visionary Partners
Banque Nationale and Nedco Groupe Rexel

Innovative partners
Bell, Bibby-Ste-Croix, CMS Entrepreneur Généraux, G-Tek, Infrastructel, Ipex, Katrine Lavigne Gestion Privée, Lécuyer Béton, NRJ Environnement Routier, NRC Construction, Schneider Electric et Groupe TCI