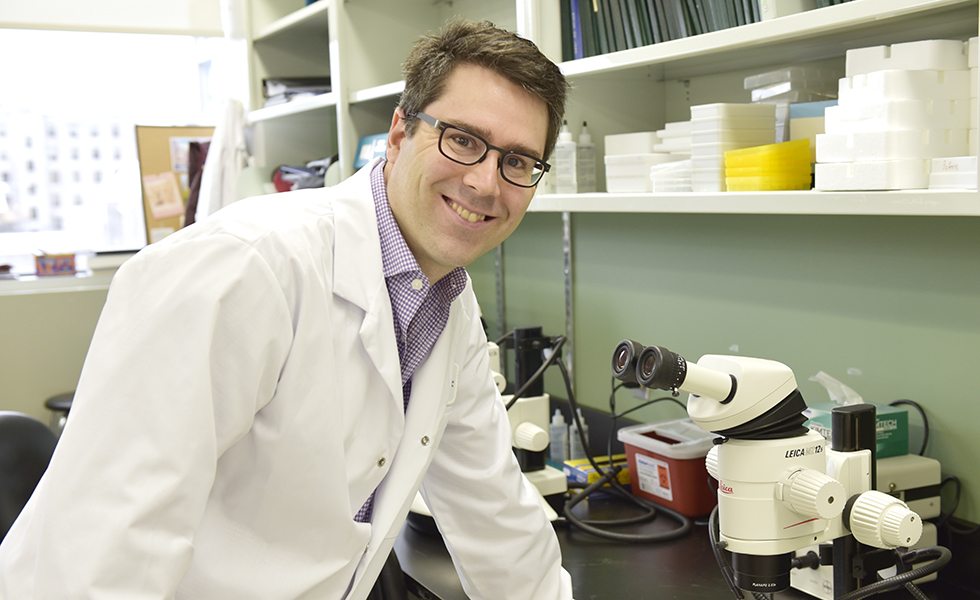 In a paper recently published in the prestigious journal Nature Cancer, the team of Dr. Frédéric Charron, a researcher at the Montreal Clinical Research Institute (IRCM) and professor at Université de Montréal, unveils a triggering mechanism for medulloblastoma.
Medulloblastoma is the most common type of malignant brain tumour in children. The current available treatment is particularly aggressive. Once diagnosed, patients typically undergo brain surgery followed by highly toxic radiation or chemotherapy. Despite this aggressive treatment, the survival rate for medulloblastoma is only 60 per cent and those who do survive are at high risk for secondary tumours, growth delays and significant intellectual impairment. A better understanding of the origin of medulloblastoma could help prevent the development of the disease.
The Sonic Hedgehog pathway is essential for the early development of the brain region where medulloblastoma arise. Sonic Hedgehog activates a communication network that sends a signal to cells to proliferate and multiply themselves.
In this publication, first author Dr. Lukas Tamayo-Orrego of Dr. Charron's lab further investigates the role of Sonic Hedgehog. The mechanisms causing mutations that initiate cancer are not well known. Thus, the team wondered whether the normal proliferative signals of Sonic Hedgehog could disturb the DNA functions and initiate cancer development. In order to multiply, cells need to replicate their DNA. In this case, the team found that Sonic Hedgehog causes replication that is so strong that it creates replication stress, which in turn causes mutations. These mutations are responsible for triggering cancer.
By showing how Sonic Hedgehog accelerates DNA replication dynamics and by studying the mechanisms regulating this phenomenon, Dr. Charron's team provided proof of principle that reducing DNA replication stress in cells that are at risk of mutation could help prevent the early development of medulloblastoma.
"This new understanding of the mechanisms underlying the development of this terrible disease brings new knowledge to the field and might also apply to other types of cancer," declared Dr. Frédéric Charron.
Click here to see the publication in Nature Cancer and here for free, read-only access.
Funding
This work was supported by the Canadian Institutes of Health Research, the Canada Research Chairs, the Fonds de Recherche du Québec-Santé, the Canada Foundation for Innovation, the Canadian Cancer Society Research Institute, the Medical Research Council (UK), the European Union's Horizon 2020 research and innovation programme ERC Advanced Grant, the Caldas (Colciencias) Foundation, the Djavad Mowafaghian Foundation, the European Molecular Biology Organization, and the Natural Sciences and Engineering Research Council of Canada.