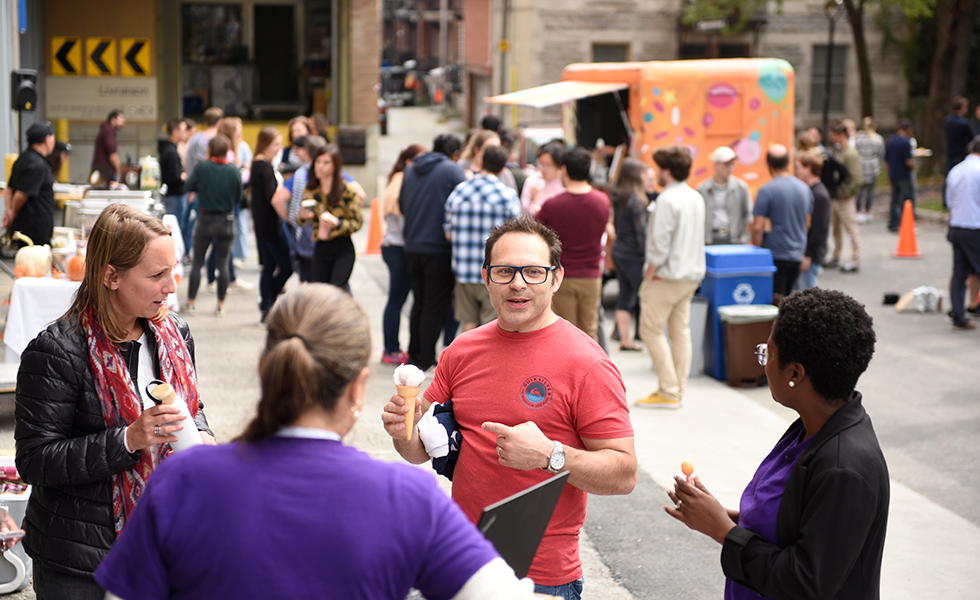 On Friday September 29, the IRCM community took a break to mark the start of the new academic year.
First thing in the morning, IRCM's Academic Affairs team brought together representatives of the various departments and new students, for a highly informative introduction to the Institute and its workings.
Then, at lunchtime, the entire in-house community came together for a fun-filled get-together. Over 150 members of the in-house community - students, postdoctoral fellows, researchers, as well as professionals and employees from all floors - gathered outside the Institute, in the space adjacent to the IRCM Clinic, to enjoy this sunny autumn day.
The mood was just right! The community enjoyed a light meal from the cafeteria, a mobile ice cream wagon, and music ambiance provided by Hanna. Everyone had fun with the roulette wheel, with its many small prizes. Members of the community also enjoyed a number of fun activities organized by ASSO. Then, skillfully organized by Human Resources, the rally activity created new opportunities for people from different teams to meet, in addition to delighting the three participation prize winners:
• 1st prize - $100 membership to the Éconofitness sports centre (replaceable by a gift card of your choice): Yacine Kherdjemil
• 2nd and 3rd prizes - $25 gift cards for the IRCM cafeteria: Alexandre Gato and Rodrigue Peraldi
The Institute wishes its internal community a successful academic year!