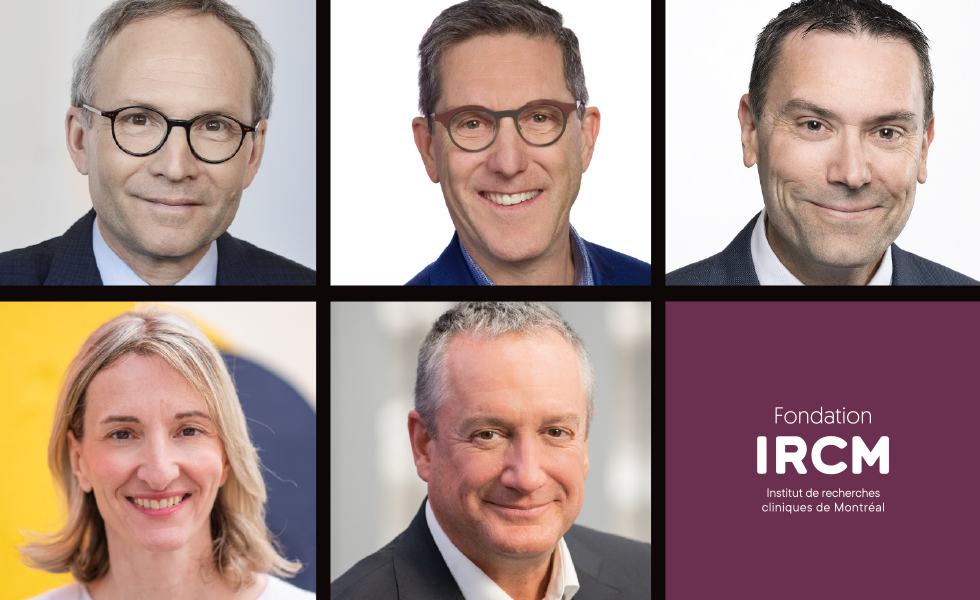 On November 17, the IRCM Foundation will officially launch its ambitious new campaign to raise $25 million over five years to support health research. The Foundation is proud to count on leaders from the business community who are also inspired by life.
The Foundation thus welcomes to its ambassadors' cabinet:
Mr. Martin Coiteux, Head of Economic Analysis and Global Strategy, Caisse de dépôt et placement du Québec (CDPQ)
Mr. René Douville, Senior Vice-President and Head Corporate Finance, Quebec, BMO Financial Group
Mr. Alain Masse, President of UAP
Ms. Anne No Delaide, Director, Eastern Canada, RBCx
Mr. Richard Payette, Businessman and Corporate Director, former President and Chief Executive Officer of Manulife Quebec
Complete composition of the cabinet

Research to improve quality of life
As André Couillard, Chairman of the Foundation's Board of Directors, reminds us, "Excellence in research, the kind that improves and changes people's lives, requires lasting and concerted efforts."
Thus, the impact of this campaign will translate into investments over 5 years in more than 20 priority projects for the IRCM. In addition to those previously announced in June, these include:
Development of new treatments for Alzheimer's disease, with the goal of finding drugs that will delay and prevent cognitive decline.
Creation of a library of molecules targeting emerging viruses that threaten humanity, which will ultimately be used to develop antivirals against SARS-CoV-2 and other developing viruses.
Study of proteases, to prevent or cure COVID-19, viral infections and cardiovascular diseases. Through ongoing clinical trials, proteases will decrease the incidence of pancreatic cancer tumours and metastasis, and may also block the entry of viruses, including COVID-19.
Study of the mechanisms responsible for the hormonal resistance of Cushing's disease, in order to improve the understanding of the critical role of these mechanisms in several diseases including pituitary tumours, depression, chronic stress, breast and prostate cancers, etc.
Study of the role of proteins in cancer, neurodegeneration and psychiatric disorders, to change the game for people with life-threatening or debilitating diseases by helping to develop drugs.
Learn more about the campaign projects

Those interested to know more about the campaign may contact Marie-Bénédicte Pretty, Interim Executive Director of the IRCM Foundation, at 514 987-5534.