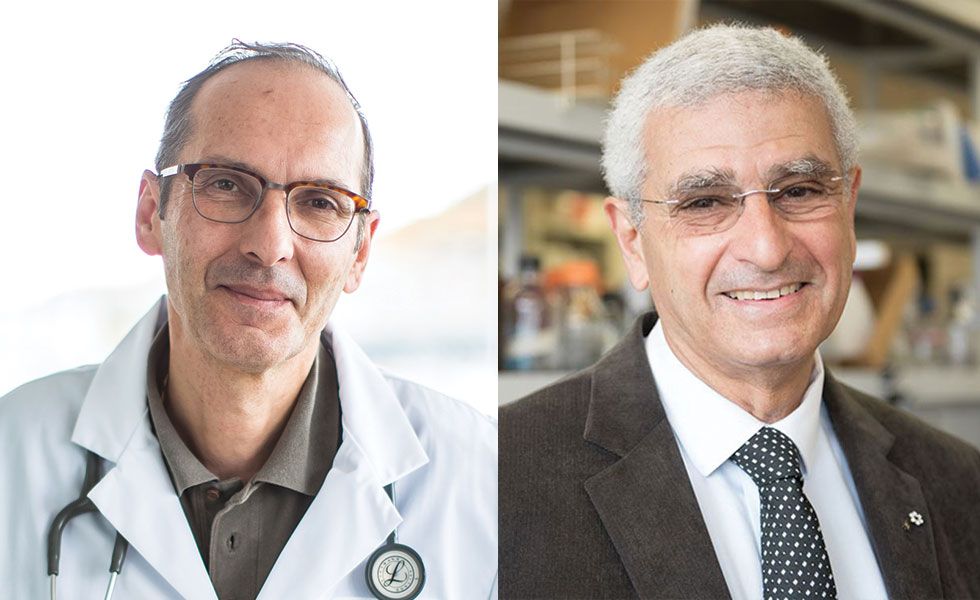 Drs. Rémi Rabasa-Lhoret and Nabil G. Seidah were recently elected as 2021 Fellows of the Canadian Academy of Health Sciences (CAHS) in recognition of the excellence of their work as leaders in health sciences. The CAHS Fellowship is one of the highest honours for members of the health sciences community in Canada. Fellows of the Academy are elected based on their demonstrated leadership, creativity, distinctive competencies and commitment to advancing academic health sciences.
Dr. Rabasa-Lhoret is a seasoned physician and researcher who has developed a world-class reputation in the field of diabetes. He is the Director of the Diabetes clinic and the Metabolic Diseases Research Unit at the IRCM, as well as Vice President Clinic and Clinical Research. A born communicator, he masters the art of making complex matters accessible to all. This talent, coupled with his great listening skills and empathy, have earned him a deep appreciation from his patients, his collaborators, and his students.
Dr. Nabil G. Seidah is the world's leader in proprotein convertases. He is the Director of the Biochemical Neuroendocrinology Research Unit at the IRCM and has trained over 150 young researchers and students throughout his career. His work has led to the most effective known-to-date drug for lowering LDL cholesterol in the blood, among other discoveries which appear in medical manuals. His passion for discovery is widely known.
"We feel deeply honoured by this mark of recognition and by this new opportunity to contribute to the reflection to improve health in Canada," they both agreed to say.
The IRCM community extends its warmest congratulations to Dr. Rabasa-Lhoret and Dr. Seidah for this honour.
About the Canadian Academy of Health Sciences
The Canadian Academy of Health Sciences brings together Canada's top-ranked health and biomedical scientists and scholars to make a positive impact on the urgent health concerns of Canadians. Learn more