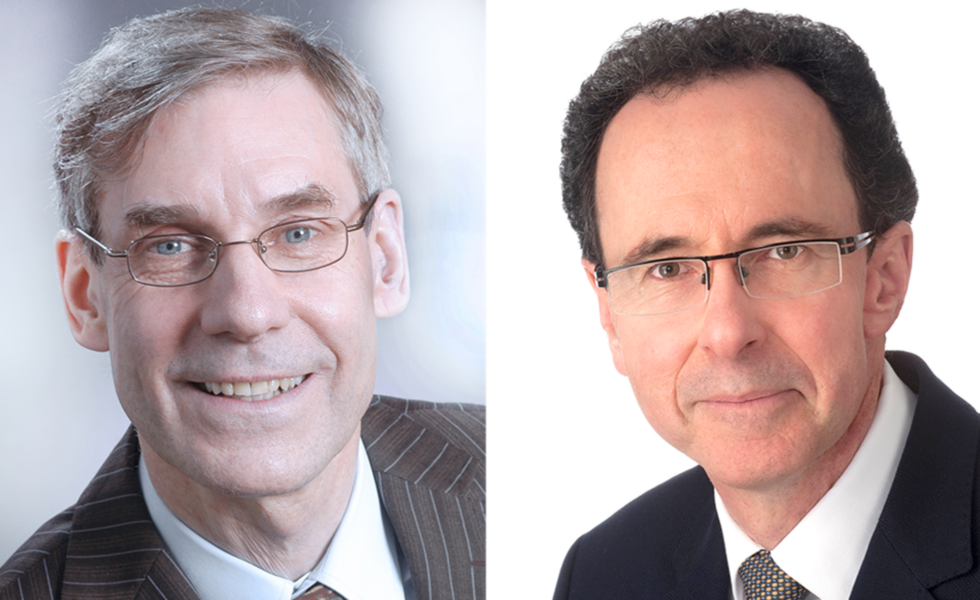 From left to right : Pierre Duplessis, Richard Mayrand.
The Montreal Clinical Research Institute (IRCM) is pleased to announce that Mr. Richard Mayrand has officially become its new Board of Directors Chair, succeeding Dr. Pierre Duplessis, who led the Board for five years.
"The Chairman's role is essential in a major research and clinical institution such as ours, and I am delighted to see the IRCM benefit from Mr. Mayrand's great expertise," said Dr. Jean-François Côté, Scientific Director and Interim President of the IRCM.
"With the support of my colleagues of the Board of Directors, I am committed to follow in the footsteps of Dr. Duplessis, our outgoing president, by continuing to develop our sound governance practices. The IRCM wishes to be recognized as a reference in terms of governance among research institutes in Quebec and Canada, just as it is already recognized for the excellence of the scientific research carried out by its researchers," said Richard Mayrand.
Mr. Mayrand is a member of the Ordre des pharmaciens du Québec. He is also a member of the Ordre des comptables professionnels agréés and of the Ordre des administrateurs agréés. He has been awarded the title of Fellow by all three professional orders. He holds an MBA from McGill University.
An Exceptional Career
Richard Mayrand, MBA, FCPA, FCGA, worked for the Jean Coutu Group from 1996 to 2019 as Senior Vice President, Pharmaceutical and Government Affairs. His mandate was to ensure the Jean Coutu network's leadership in pharmaceutical services. A College of Corporate Directors's graduate, he chaired the Board of Directors of the Association des bannières et des chaînes de pharmacies du Québec and sat on the Board of Directors of the Société de soins palliatifs à domicile du Grand Montréal. Richard Mayrand has been teaching the human resources management module at the Faculty of Pharmacy of the Université de Montréal since 1996. In 2011, the Ordre des pharmaciens du Québec awarded him the prestigious Louis-Hébert Award, the Order's highest distinction in recognition of his contribution to the advancement of the profession of pharmacy. Mr. Mayrand was already Vice-President of the IRCM Board of Directors and President-Elect. He is also Chair of the Scientific Committee and a member of the Governance Committee.
The IRCM would also like to salute Dr. Pierre Duplessis and thank him warmly for his unwavering commitment to the Institute and its mission.
"I wish a radiant future to this institute, which abounds scientific and human talent, and in which I have enjoyed working," declared Dr. Pierre Duplessis.