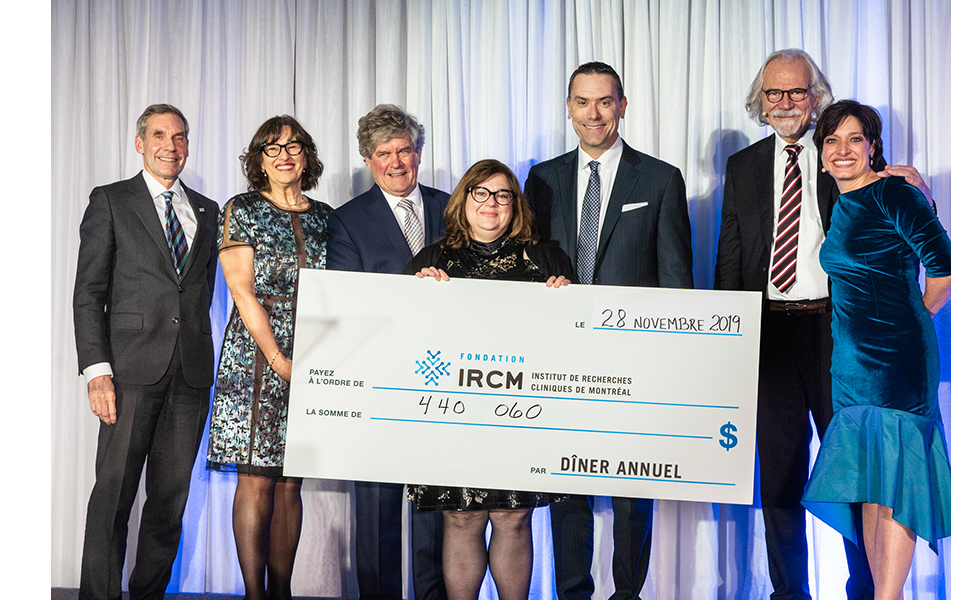 More than 470 representatives from the business, research and life science communities gathered at Marché Bonsecours on November 28 for the Montreal Clinical Research Institute (IRCM) Foundation's Annual Dinner. The fundraising event was held under the honorary chairmanship of Alain Masse, President of UAP, and raised $440,060.

"The IRCM is a rich pool of talent and makes an essential contribution to society, and this is why tonight we pay tribute to its accomplishments," said Alain Masse. "All UAP employees are extremely proud to support this institution, which has the best health researchers on its team. In addition to being behind important medical advances, they train a talented new generation of scientists and offer unparalleled support to the IRCM Clinic patients."

The IRCM's four pillars – discovering, processing, training and valuing – were celebrated throughout the Annual Dinner, as the Institute brings together researchers, doctors, students and employees who are deeply involved in medical research. Those 400 people are committed to all aspects of health, from basic research to its valorization in drugs, by contributing to the training of tomorrow's researchers and the optimization of clinical care.

During the event, the IRCM also paid tribute to Tarik Möröy by awarding him the Merit Award. Currently Director of the Hematopoiesis and Cancer Research Unit, Dr. Möröy was President and Scientific Director of the Institute from 2006 to 2019, where he achieved many successful achievements.

The event was also the opportunity to present the 2019 Marcel-Piché Prize to Eric Racine, Director of the Pragmatic Health Ethics Research Unit. This honour was awarded to him in recognition of the excellence of his research work and his contribution to the growth and influence of the Institute.

"We would like to thank our generous partners and guests as well as our volunteers, thanks to whom this event is once again a success," concluded André Couillard, President of the IRCM Foundation, and Max Fehlmann, President and Scientific Director of the Institute. "We would especially like to thank Alain Masse and his team at UAP, who used their extensive network to ensure a resounding success at this event."