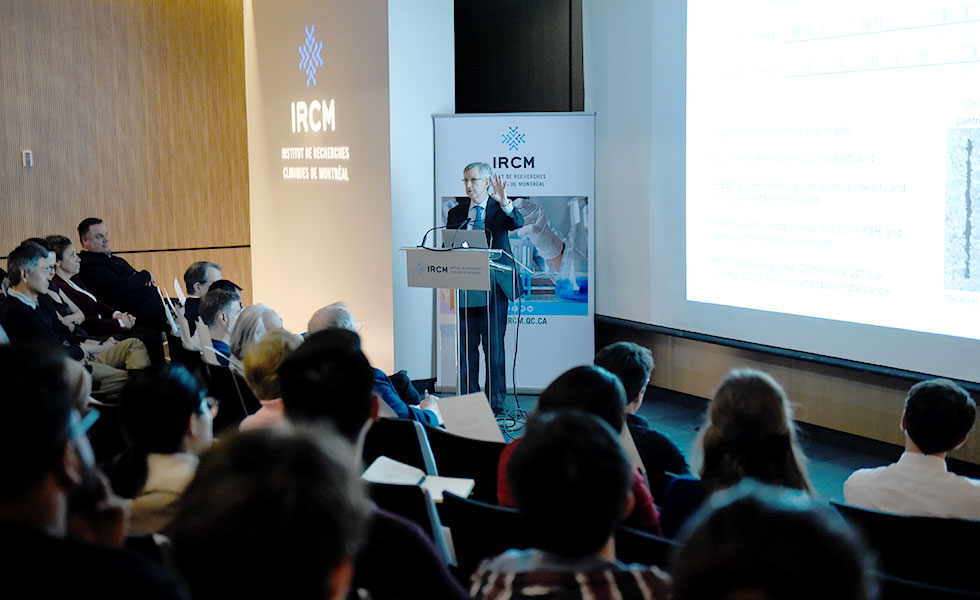 Monday, September 14, the 2020 fall IRCM Conference series will be launched. Offered in virtual mode, due to the COVID-19 health measures, these conferences sharing some of the most recent advances in biomedical research will be presented by 12 world-renowned researchers from Finland, Australia, Norway, the United States and from across Canada. For each conference, participants will be able to ask questions in writing. Moreover, in the following days, individual or group Zoom discussions can be organized with the speaker: An exceptional opportunity to delve into the research topics that interest you with those who know them best !
For the first event of the series, this Monday, the Institute will host Johanna Ivaska, who will speak on Coordination of signaling, cytoskeleton and endosomal trafficking in cancer. A member of the prestigious European Molecular Biology Organization (EMBO), Johanna Ivaska is Professor of Molecular Cell Biology at the Turku Bioscience Center, University of Turku, Finland.
When: Monday, September 14 at 11:30
Where: Via Zoom webinar (inscription obligatoire).
All participants without exception must register to receive the password to access the webinars. This registration will be valid for the entire lecture series.
About Johanna Ivaska
Johanna Ivaska is a world class researcher whose work on integrins has great impact in the cancer field. She has over a hundred publications to her credit, including a recent one in the prestigious journal Nature Cell Biology, and over ten thousand citations in the scientific literature. Her work involves cell adhesion and motility as well as fundamental processes such as endosomal trafficking and signaling. Recognized for her exceptional qualities as a mentor, she has won prestigious awards throughout her career, such as The ten outstanding young persons, EMBO young investigator, Women in science - Unesco & L'Oreal Foundation and AI Virtanen Prize - Internationally recognized excellent in biomedical research. She is also an editor for the Journal of Cell Biology and sits on the editorial boards of several reputable journals such as Current Biology, Science Signaling, Cell Reports and Cancer Research.

The IRCM invites members of the Quebec scientific community to mark these dates in their calendars. We are looking forward to welcoming you in great numbers to these enriching meetings!