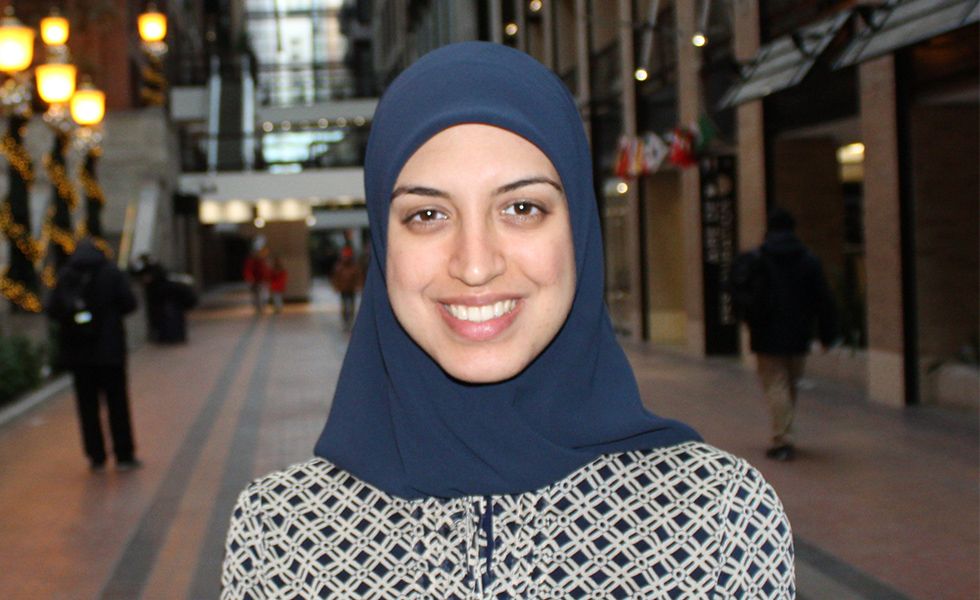 For over half a century, the IRCM has contributed to the development and training of generations of researchers from all over the world. Every year, talented and dedicated future scientists trust the IRCM to help propel their careers.
Among them, meet Fatima Kassem, a PhD candidate at McGill University, who conducts her research work under the supervision of Dr. Michel Cayouette, Director of the Cellular Neurobiology Research Unit at the IRCM.
What brought you to the neuroscience field, and especially in vision research?
I have always been interested in the speculative aspect of science. My drive to figure out why and how things work led me to pursue a double major in biochemistry and human biology at the University of Toronto. I then completed a master's degree at the University of Michigan where I had the opportunity to try my hand in vision research.
My interest in studying the eye began at an early age. I remember being influenced by my grandmother who suffered from blindness due to a faulty cataract surgery. She inspired me to, one day, provide the best care to people with vision impairments. It wasn't until my first experience in vision research that I fully realized that the way I would do this would be through my passion for scientific discovery and research of the eye.
At present, my work is looking at the exciting potential capability of developmental factors, to reprogram light-sensing neurons in the eye to prevent blindness caused by retinal degeneration.
Tell us about your journey at the IRCM.
After completing my master's, I sought to find an innovative vision research lab where I could develop my skills, in what I consider to be one of the most beautiful subjects in science. My search led me to find Dr. Michel Cayouette's lab through the IPN program at McGill.
After meeting Dr. Cayouette, Christine Jolicoeur, and some members of the lab over Zoom, I sensed that this lab embraced scientific curiosity and valued professionalism in research. Moreover, I was happy to find people who shared my passion for visual sciences. In addition to advancing my experimental skills, it was important to me to further develop my experience in scientific writing. Accordingly, I had the pleasure of contributing to two articles in the lab which greatly benefited me beyond what can be taught in courses.
When you get to do something yourself, you understand the work that isn't always obvious in the final product, and you are humbly reminded that no one can do good work without the help and influence of others.
What is the next step for you?
This past year, I was grateful to have passed my candidacy exam which was a big milestone during my PhD. I am happy to say that I have encouraging committee members who care that I gain the most out of my PhD. This kind of support makes me aspire to be just as impactful as they are when I get the chance to sit on a student's committee in the future.
Exploring my project has involved conducting gene therapy, subretinal surgeries, and electroretinograms, which are just a few of the methods I use to embrace the nature of scientific discovery. These are all types of experiments I remember reading about in papers before getting a chance to do them with my own hands. My goal is to gain as much expertise from my PhD, so that I may contribute to my field by teaching future generations, as I am being taught now with the incredible opportunities I have.
How do you envision the future?
Being a woman in science and a practising Muslim, there is a saying which I try to live by: "A person is either your brother in faith, or your equal in humanity". Regardless of the many ways society tries to make people seem different, at the end of the day, we all share and deserve to be treated with our innate human rights. This is what success would look like for me in the future.
For this reason, I try to contribute to the communities I am part of, such as the IRCM, and improve the level of respect and understanding in a space where we all enjoin to pursue higher education and scientific discovery. To do this, I joined ASSO, the IRCM students' association. I was elected as the student representative for scientific life where I work to have the students' voices heard and implemented at the Institute's scientific events.
I believe that for their minds to flourish, it is important that all of our scientists feel welcome, and their ideas encouraged. Therefore, I am pleased to say that with relentless effort, we are moving towards a more inclusive IRCM. To further promote equity, diversity, and inclusion (EDI), I was chosen by my peers to contribute to the coming EDI initiatives to better accommodate and advocate for human values among the students, staff, and mentors of the IRCM. I hope that the future EDI initiatives will steer the IRCM towards greater innovative success for the IRCM community. As the motto of our Institute is "Inspired by life", by embracing the lives that make up the IRCM, we can better represent our motto.
Other than science, tell us more about you.
In my free time, I enjoy several hobbies such as swimming, playing volleyball, doing art, and solving puzzles. I think there is a lot to be gained from taking things apart and putting them back together; It's an obsession that is also related to my love for science.
However, what is even more important and rewarding to me is getting to share my passions with those around me. I believe that having knowledge is useless unless it is put to good use. So, I embrace every chance I get to carry out science outreach projects - like Science POP - because I see it as an opportunity to raise public awareness about what we do. To me, teaching is a noble use of knowledge that I hope to devote myself to, one day.