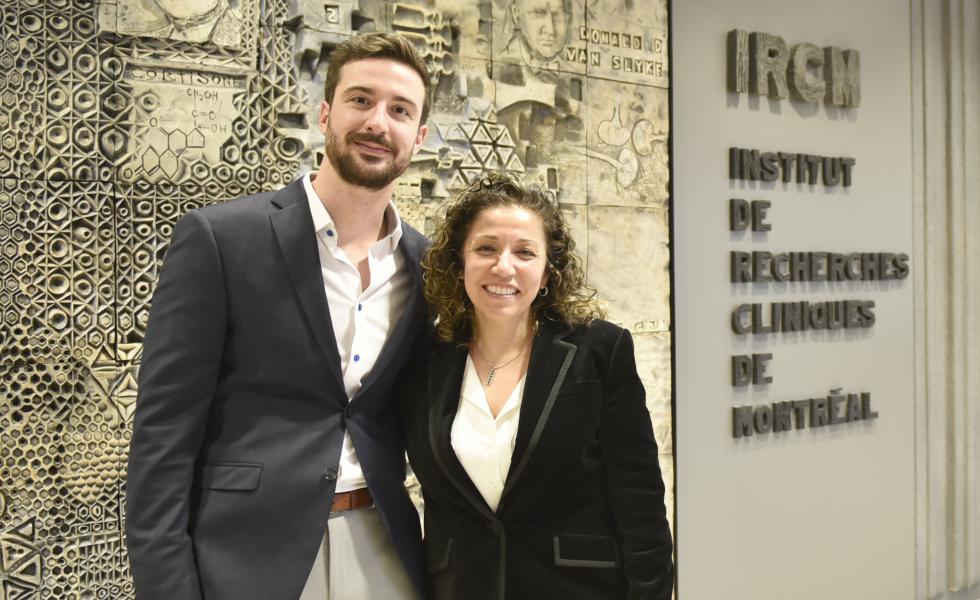 This week, Yannick Cyr, doctoral student at the Université de Montréal who is pursuing his studies at the Montreal Clinical Research Institute (IRCM), defended his doctoral thesis on cardiometabolic risks in humans. Yannick is part of the first cohort of students enrolled in the IRCM's master's in Molecular Biology, Cellular and Molecular Medicine (MCM) program, and the first in his group to defend his PhD thesis.
"I chose the IRCM's MCM master's program because it offers an innovative curriculum that allows you to learn both clinical research needs and the latest technologies in basic research. The MCM program gave me an overview of what is possible to accomplish in biomedical research and it guided my choice of doctoral studies, in the laboratory of Dr. May Faraj at the IRCM", he explains.
As part of his studies in the Nutrition and Lipoproteins and Cardiometabolic Diseases laboratory, Yannick had the opportunity to develop fundamental research projects that were part of a broader clinical context. The experiments he collaborated on attempted to explain clinical results. "As a result, I always felt I was working on experiments that were real, applicable and relevant to the field," he concludes.
His experience within the MCM program served as a springboard for his career. Yannick is now preparing to undertake postdoctoral studies at the renowned Langone Medical Center at New York University where his projects will focus on the regulation of cardiovascular risk by non-coding RNAs.
Congratulations Yannick and good luck!
About the master's and doctoral program in Cellular and Molecular Medicine
The IRCM option in Cellular and Molecular Medicine (MCM) aims to train the next generation of scientists by providing students with in-depth knowledge of molecular biology while aligning basic research with the needs of clinical practice. The master's program follows an intensive one-year curriculum which allows for a transition to doctoral studies without writing a dissertation. Students partake in theoretical and practical courses, and follow two intensive four-month internships in two different laboratories at the IRCM.
The MCM Master's and Doctoral degrees are affiliated with the Molecular Biology Programs of the Faculty of Medicine at the Université de Montréal. For more information, visit the Cellular and Molecular Medicine website.