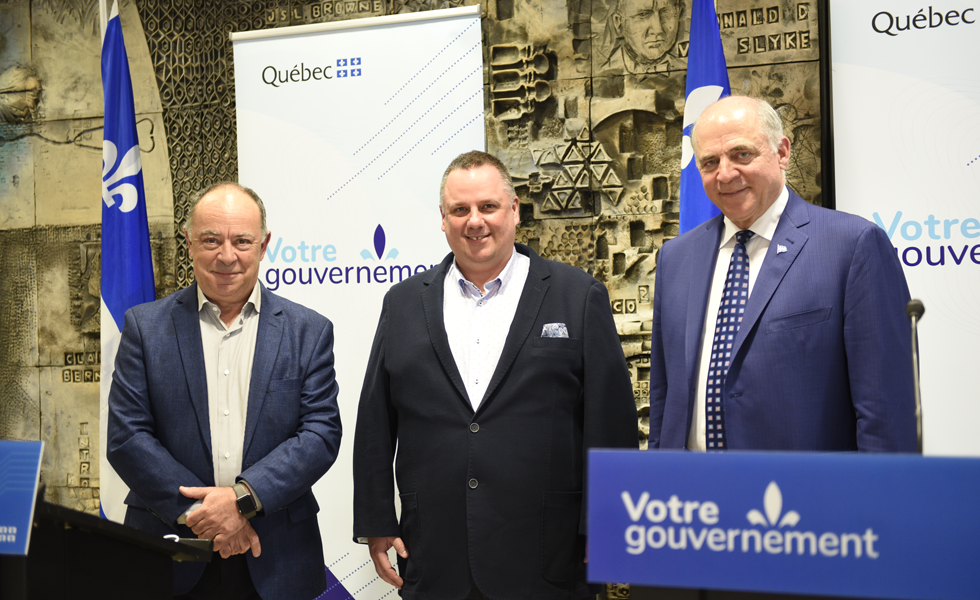 The Institut de recherches cliniques de Montréal (IRCM) warmly welcomes the grants totalling $31,142,313 announced today at a joint press conference by Pierre Fitzgibbon, Minister of the Economy and Innovation, and Christian Dubé, Minister of Health and Social Services, which will help propel the IRCM's research and clinical activities until 2023-2024, for the benefit of the citizens of Quebec and beyond.
While the importance of advancing knowledge as well as care techniques has shown its relevance, these sums will allow our researchers, clinicians, and all their teams to continue their work on all fronts, whether it is in relation to debilitating diseases such as cancer metabolic diseases, rare diseases, among others, and cutting-edge biomedical technologies such as RNA, but also in terms of clinical research, care and follow-up of patients served by the IRCM, said Dr. Jean-François Côté, Scientific Director and Acting President of the IRCM.
As an independent biomedical research center, the IRCM brings together internationally renowned researchers in the broad field of life sciences and provides them with state-of-the-art technological infrastructures to accelerate the development of new therapeutic avenues. It also houses several research and follow-up clinics for major diseases such as diabetes and rare diseases.
Projects that bring hope
To demonstrate the innovative vision that is currently being implemented at the Institute, let us highlight a few innovative projects supported by the MEI:
The implementation of an RNA medicine and innovation program. The objective is to consolidate the position of the IRCM as a leading RNA research center in Quebec, Canada and abroad. We are in the midst of an RNA revolution in biology and medicine and the IRCM is in a privileged position to develop and implement the nucleic acid-based treatments of tomorrow.

The launch of a platform of therapeutic monoclonal antibodies. These antibodies are highly effective against several types of human diseases, including cancer, auto-inflammatory diseases, autoimmune diseases and infections such as COVID-19. The objective of this project is to accelerate the development of new high-value antibodies and thus fill a gap in Quebec for innovative therapies.

Type 1 diabetes is a chronic disease requiring complex insulin therapy with a high risk of complications. The IRCM is developing a research structure called CREATE-1 around a high value-added biobank to build a medical and biological database to identify new therapeutic targets and new biomarkers, and ultimately to develop personalized medicine.

The enormous potential of artificial intelligence (AI) in the discovery of new biological and pathological mechanisms and the improvement of patient care remains to be exploited. Our project aims to seize this opportunity by developing AI tools that will lead to discoveries ranging from the molecular mechanisms underlying human diseases to improving the efficiency of healthcare.

Contact:
Florence Meney
Head of communications, IRCM
florence.meney@ircm.qc.ca
514 755-2516