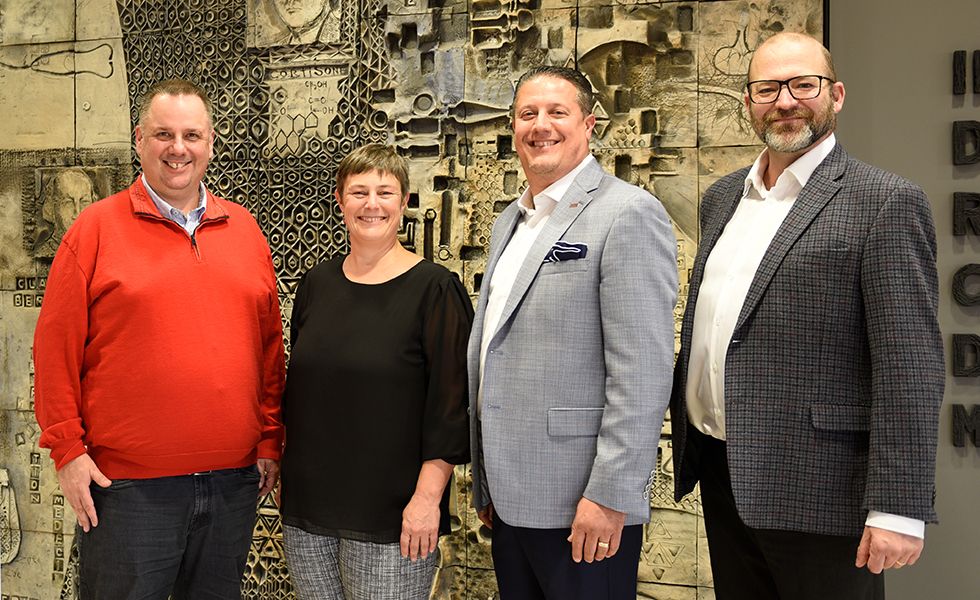 From left to right: Jean-François Côté, Marie-Bénédicte Pretty, John Di Raddo and Louis-Michel Taillefer.
Through its generous contribution, CIBC joins the major donors of the IRCM Foundation's Capital Campaign Driven by Life.
In 2021, every hour, approximately 26 women in Canada were diagnosed with breast cancer. After a year, that's more than 225,000 individuals, a statistic that at first glance could be discouraging. Fortunately, thanks to the incredible work of researchers who invest in this field, receiving this type of diagnosis ends less and less with a fatal outcome. People living with this disease now receive treatment and support that improves their quality of life and greatly increases their chances of living long and healthy lives. However, despite these significant improvements, too many women are still being taken by breast cancer.
The IRCM Foundation is therefore very grateful to CIBC for supporting Dr. Jean-François Côté and his team in their quest for a new treatment that aims to prevent the development of metastases and thus slow or even prevent the progression of a particularly aggressive form of breast cancer. While visiting the IRCM, Mr. John Di Raddo and Mr. Louis-Michel Taillefer of CIBC shared their thoughts on this crucial issue.
"CIBC is a leading North American financial institution with 13 million clients, including individuals, businesses, institutional organizations and the public sector. We are particularly proud of the strong and lasting relationships we have established in Quebec for more than 150 years with organizations such as the IRCM. Through these collaborations, we can bring more to the Quebec population.
When it comes to breast cancer, our ambition is to create a future where no one will fear this disease."
—John Di Raddo, Market Vice-President, Personal and Small Business Banking, CIBC
"Through the CIBC Foundation and the true caring culture of the great CIBC team, we are committed to helping people and our communities realize their ideas. Giving back is an integral part of CIBC's culture and we do it thanks to the unwavering support of our current employees and retirees."
—Louis-Michel Taillefer, Senior Consultant, Community Relationships & Communications, Quebec CIBC
"My team and I are really motivated by this very promising project in the fight against breast cancer. The members of the IRCM Foundation's Board of Directors, as well as the members of the Institute's Executive Committee, join me in warmly thanking CIBC for its significant support."
— Dr. Jean-François Côté, President and Scientific Director of the IRCM and Research Director for the projects mentioned above
Learn more about Dr. Côté and his team's recent progress in the fight against breast cancer.