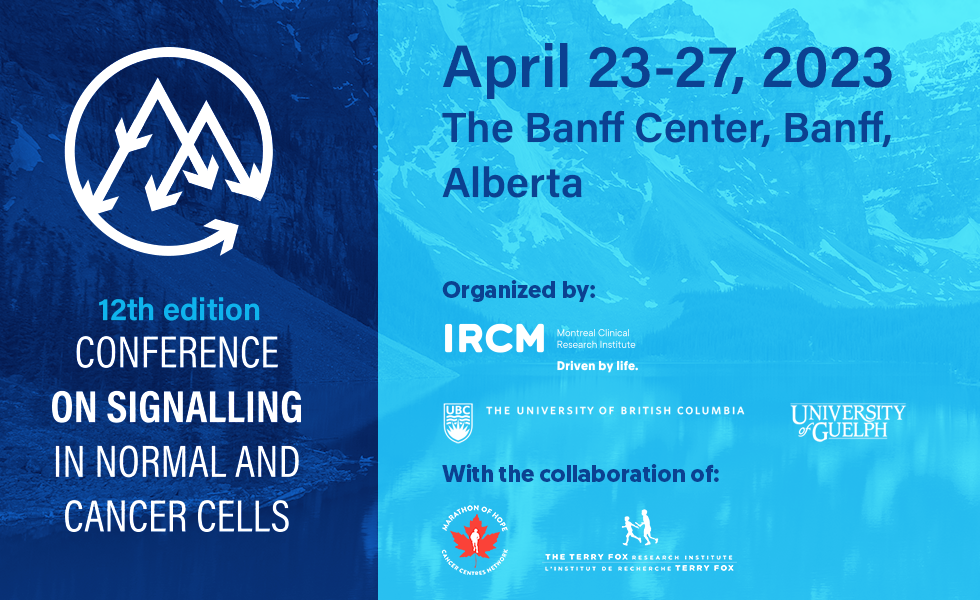 Dr. Jean-François Côté, in collaboration with Dr. André Veillette and the Terry Fox Marathon of Hope, is happy to take part in the organization of the 12th edition of the Signalling in Normal and Cancer Cells conference, from April 23 to 27, 2023, in Banff, Alberta.
This event has become a reference and a tradition, in the wake of the scientific legacy of Dr. Tony Pawson, a pioneer of this biannual meeting which he organized for a long time. This a major event is a privileged opportunity to exchange for scientists from various backgrounds.
Each edition brings together leading signal transduction researchers from across Canada and around the world. These scientists are involved in various aspects of cell signalling research, from the membrane to the nucleus, and from basic research to translational research.
Organizing committee:
Jean-François Côté, PhD, Montreal Clinical Research Institute
Michael Gold, PhD, University of British Columbia
Nina Jones, PhD, University of Guelph
Place :
Banff Center for Arts and Creativity
107 Tunnel Mountain Drive
Banff, AB, T1L 1H5 Canada
Contact at the IRCM: BanffSNCC@ircm.qc.ca
For more information and to register
About the IRCM
The IRCM is an internationally renowned biomedical research institute located in the heart of Montreal's academic community. Founded in 1967, the IRCM was the first research center in Quebec to bring together basic researchers and clinicians under one roof. A unique model at the time, the IRCM is now one of the most successful research centers in the country, committed to nurturing the next generation of scientists at the highest level. The IRCM has distinguished itself in many areas of the life sciences, including promising work in immunology, virology, neurobiology, rare diseases and messenger RNA.
About the Terry Fox Research Institute
Established in 2007, TFRI invests in world-class, collaborative cancer research teams and partnerships. Together with its research and funding partners, TFRI is working to inspire the transformation of cancer research in this country by bringing together leading cancer research and treatment organizations in Canada and empowering them under the framework of the Marathon of Hope Cancer Centres Network and the Digital Health and Discovery Platform. www.tfri.ca; www.marathonofhopecancercentres.ca.
About the Marathon of Hope Cancer Centres Network
The Marathon of Hope Cancer Centres Network is the realization of a long-standing vision of the Terry Fox Research Institute. Inspired by Terry Fox and his Marathon of Hope, the network represents a powerful collaborative platform that will close the gap between research in the lab and patient care in the clinic. Just as Terry Fox united Canadians with his run and dream to end cancer, the Marathon of Hope Cancer Centres Network will unite cancer researchers to pursue that same goal with precision medicine.