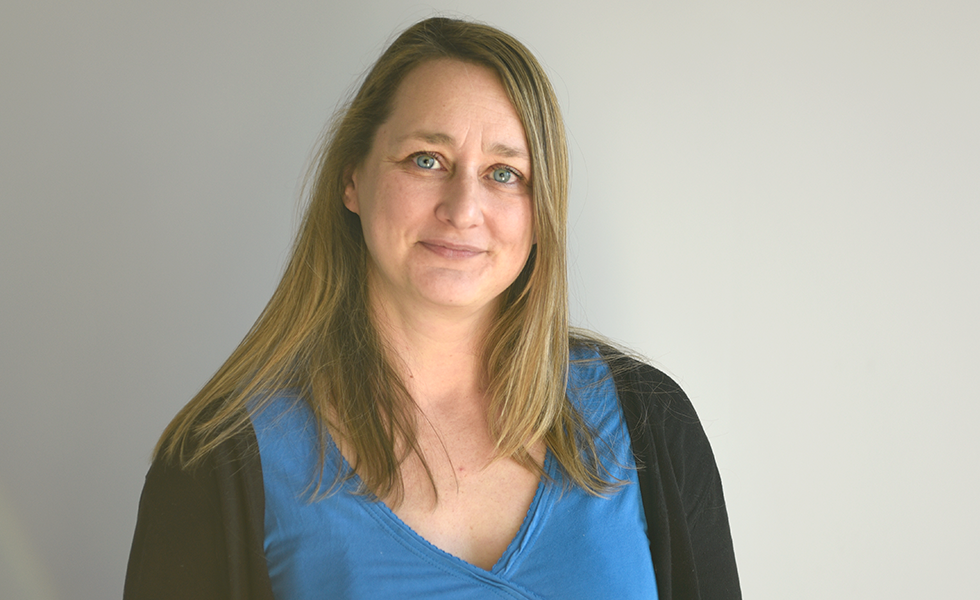 Céline Chéneau, Paralegal, General Secretariat and Legal Affairs
Growing up in the IRCM family

NB: This series of encounters highlights the diversity of the members of the IRCM community, the variety of their expertise and the depth of their commitment to their respective roles.
Céline joined IRCM in 2018. Originally from Angers, France, Céline welcomed the prospect of taking on a long-term position. As an immigration candidate, she had been doing temporary replacements.
When I was welcomed at the IRCM, I was told: this is a family. When you join, it's until you retire. I liked that a lot.
While taking on the long-term position of Executive Assistant to the General Secretariat and Legal Affairs was a perfect fit for Céline, the scientific and medical mission of the institution also won her over.
My cousin had just passed away from cancer, and when I learned that Jean-François was working on treatment-resistant breast cancer, I really felt challenged.
Immediately immersed in her new professional responsibilities, Céline quickly appreciated the warm and direct nature of the relationship with the IRCM board members, with whom the General Secretariat works closely.
We're talking about people who are important personalities, well-known people, vice-presidents, great lawyers... and they are very humble and accessible. Our role at the General Secretariat, as a hinge, is to act as a liaison between the Board of Directors, management, and the Institute.
Over time, she became a paralegal and her role expanded during the pandemic. While she remains responsible to coordinate the works of the General Secretariat, a complex job, since last year she is also being gradually initiated to the review of contracts. She is now going back to law school to develop her skills in this area.
I like the fact that my job puts me at the intersection of all the departments at IRCM. In the legal affairs department, we process documents for different sectors. We have to keep a record of the decisions made. We also play a role in the lives of researchers because we keep track of research contracts and make sure that researchers' interests are protected.
Looking ahead, she plans to take full advantage of the professional development environment she finds at IRCM.
I like the fact that IRCM has given me this opportunity to grow and that I still have prospects to grow. You can spend your career at IRCM, but not necessarily in the same way as when you entered.
Thank you, Céline, for your hard work.