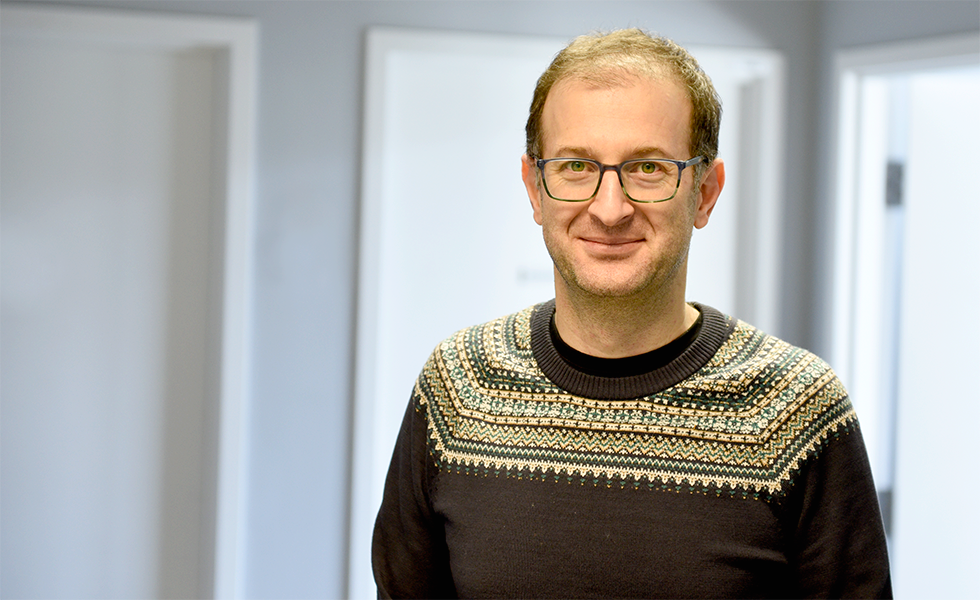 Peiman Shooshtarizadeh, Deputy Director of Commercialization
Nurturing scientific buds to help them mature

NB: This series of encounters highlights the diversity of the members of the IRCM community, the variety of their expertise and the depth of their commitment to their respective roles.
Peiman Shooshtarizadeh, who has been working at the IRCM for eleven years now and knows its many scientific corners as well as its rich human capital, does not hesitate to explain that he feels at the Institute like a second family. He is always interested in the multiplicity of research topics, a vast playground for him, who is committed to accompanying research in the complex and arduous maturation process that brings the work born on the bench of a research centre lab to the patient's bedside, with the support of the private sector.
"'One of the things I like about the IRCM is that autonomy, the fact that we operate independently, although we are allied with others. It's like a single independent interdisciplinary island, fully equipped, with its own platforms and technological means. It is a whole, a world apart. And it's on a human scale; decision-making is much more agile and easier than in other contexts."
Initially hired as a research associate in Dr. Tarik Möröy's lab, Peiman has been involved in publishing groundbreaking work. But having worked in research since his early 20s in a variety of contexts, and feeling that his professional horizons were calling him elsewhere, he completed an MBA and then accepted the position of technology transfer advisor that became available to him four years ago. Since then, he has been the privileged interlocutor between scientific teams and the business world, to ensure that the fruits of research can develop their full potential and hope one day to find their way to the patient's bedside in the form of therapy.
''In research, there comes a time when public funding ends, and you have to be able to pick up that missing piece. ''
This is what he is working on, with the help of partners such as Axelys, an organization whose mission is to contribute to Quebec's prosperity by accelerating the development and transfer of high-potential innovations from public research.
In order to better understand the potential of a given discovery, he always keeps himself informed of ongoing projects, tries to identify them, and sees where he can be useful. Leaving the laboratory was not a loss, he explains, because this position is in line with his aspirations and values.
"'In the lab, we share our passion for science and knowledge, and with this position, I never leave the lab, I just discover multiple facets of research, I learn things, fields I never touched; we talk about neuroethics, to chemistry, to immunology... There's enough meat in this whole mission to satisfy me."
Well-equipped, he explains that talking to business people as equals pleases him just as much.
''I benefit from both my scientific background and my business training."
He estimates that currently 65 percent of IRCM scientists have had the opportunity to collaborate on a commercialization initiative with the technology transfer office. So there are still many buds of potential that are available to his analytical eye for future development.
As you can see, his mission at IRCM is driving him. And then there is his not-so-secret desire for the years to come:
"'I would really like, in this position, to participate in the creation of a start-up based on IRCM research. We have two or three potential leads, I hope to be able to participate in the realization of such a large project."

Thank you, Peiman, for working so tirelessly to develop the commercialization potential of our research!