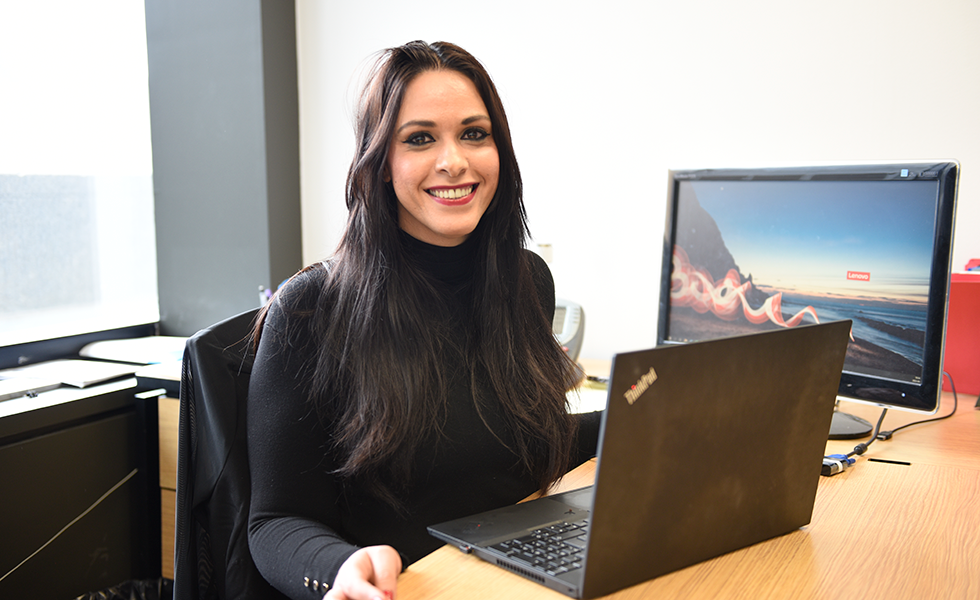 Selma Harrous, Human Resources Advisor
Sunshine on the seventh floor

NB: This series of encounters highlights the diversity of the members of the IRCM community, the variety of their expertise and the depth of their commitment to their respective roles.
To pass Selma Harrous in the corridors of the IRCM or to stop for a few minutes at her desk is to be instantly offered a large bowl of sunshine and warmth in our day. Always approachable and ready to listen, Selma welcomes requests and questions that touch on the most varied aspects of human resources matters.
When she explains that, in a previous life, she worked in the hospitality industry, it is easy to understand that her shift to human resources stems from a coherent approach, that of continuing to evolve in a job that makes the most of her human qualities and her ability to listen.
Selma has been with us since last September and is already fully integrated into the young human resources team at IRCM, which has four members and is headed by Isabelle Audet. A great deal of energy emanates from this dynamic and warm foursome, which practices an open-door policy with everyone. Selma arrived in Quebec in 2020 at the heart of the pandemic and did not hesitate to go back to school at the HEC, before launching herself into the job market and happily working in her new field.
The IRCM, where she has been working since September 2022, is an environment naturally adapted to her warm personality and intellectual curiosity.
''It is an environment that I appreciate very much, very human but also very enriching, with a wide variety of clients, be they researchers, students, employees... And the work is very diversified, with meaning, because as we are in the process of rebuilding the department (after some departures), we each have the feeling of contributing our expertise and putting a stone to build the edifice. We're not executors, we're involved in setting up new ways of doing things, and that's really interesting. You learn a lot.''
Selma says she fully appreciates the flexibility and latitude she is given in her work.
''Here, you can express who you are... you have a lot of freedom. Intellectually, it's stimulating, because you really feel that you can propose your ideas, that they are well received... In my professional life, I have never had an experience like this, with so much diversity and humanity.''
She finds this spirit of openness in her department's clientele:
''People, including managers, are open-minded, and accept the idea of change when it is well explained, and this helps us to move forward and improve our ways of doing things. This is really precious, concludes Selma with this beautiful smile that will brighten my day, and certainly yours.''
Thank you, Selma, for being here.