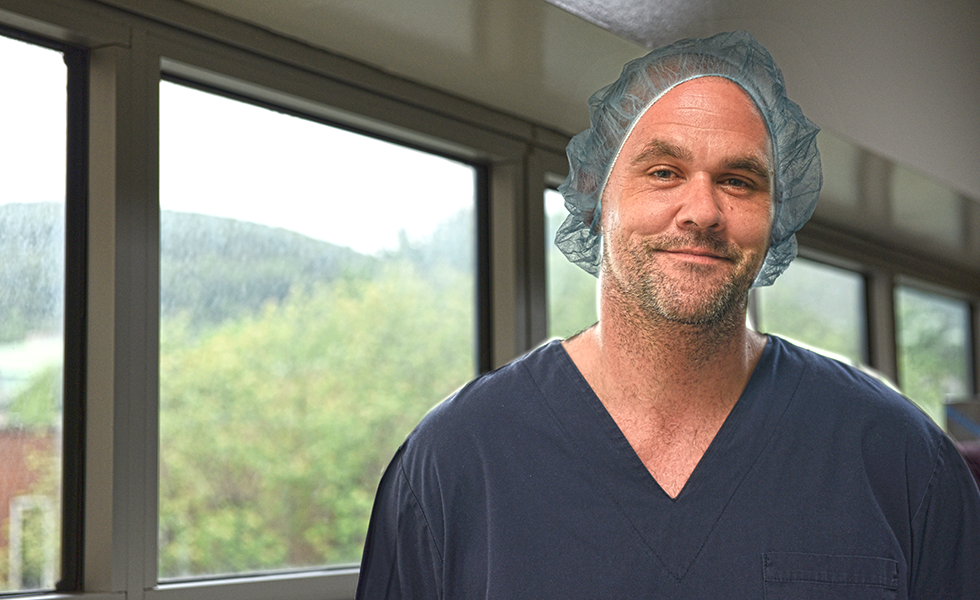 Vincent Delisle-Boutin, Animal Health Attendant
I love working with life
NB: This series of encounters highlights the diversity of the members of the IRCM community, the variety of their expertise and the depth of their commitment to their respective roles.
The passion that drives Vincent Delisle-Boutin when he talks about his daily work as an animal health worker at the IRCM is palpable. This animal-lover makes no secret of the fact that he has found a job at the Institute that matches his need to act for the good of society while working with living things.
It is absolutely the love of animals that pushed me toward this job. And I can say that the majority of my colleagues share this passion.
In concrete terms, Vincent, like his colleagues, is responsible for ensuring that the thousands of mice in the many cages at the IRCM, at all stages of their life and development, benefit from a healthy environment and that all their needs are met. He has a front-row seat to detect health problems, injuries or breakage in a colony that could potentially put the precious animals at risk.
Having worked in a veterinary clinic before joining the IRCM, Vincent made the switch to the world of research ten years ago, and he is happy about it. He feels useful and finds deep meaning in working for a noble, just cause that advances science in many ways.
For Vincent feels like a full member of the entire chain of work that surrounds research and that allows, from the laboratory to the patient, to find, conceive and dispense therapies that save lives. An unwavering partner to the animal health technician, the attendant knows that without his work, the laboratory that uses animals can see its research hampered or even stopped.
I started here in 2012, and it was love at first sight right away, it's so impressive when you see the research infrastructure. I continue to work with the animals. We're kind of the front line, because we see the mice before the technician does. I see if the mice are amorphous. We do a health check every day, every morning. We're in the background and that's okay, but we're there. The work to get a mouse with particular genetics takes hours and hours of work and making sure they are healthy is essential.
Frequently, equipment breakdowns that inevitably accompany the high volume of the IRCM force the team, of which he is a part, to be creative in ensuring the integrity of the colonies. Communication with other team members, Vincent says, is optimal.
Thank you, Vincent, for your commitment!