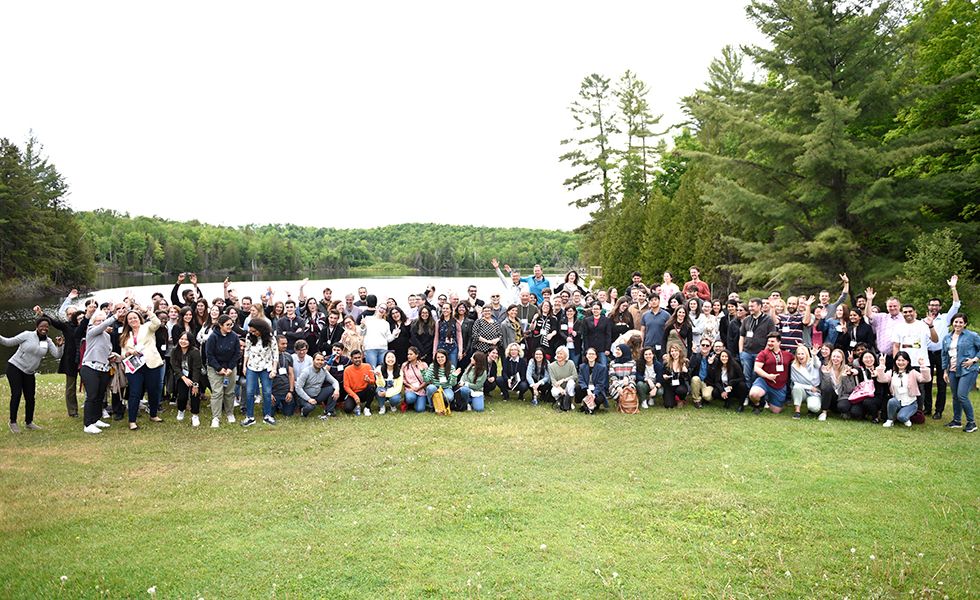 The Scientific FORUM, the traditional retreat of the IRCM's scientific community, took place on June 8 and 9, in the idyllic setting of the Hôtel Lac Carling, in Grenville-sur-la-rouge.
Made possible by the IRCM Foundation, with the generous support of BMO Financial Group, this 5th edition welcomed nearly 150 members of the IRCM community, in a warm and friendly atmosphere. Many students, postdoctoral fellows, research directors and professionals made the trip to this annual rendezvous.
Before a panel of seasoned IRCM researchers, IRCM's next generation of scientists presented the excellent research work, carried out during their academic journey at the Institute. A total of 27 oral presentations were given, in addition to 48 poster presentations, for which the best candidates received the BMO Financial Group - Emerging Scientists Award. Discover the winners:
Oral Presentations
• Tim Gemeinhardt (PhD, N. Francis), Interplay between phase separation and oligomerization is tuned by the disordered linker in Polyhomeotic.
• Shayesteh Kiani (PhD, M. Ferron), The vitamin K epoxide reductase VKORC1L1 prevents nonalcoholic fatty liver disease and hepatocellular carcinoma.
• Sophie Mockly (Postdoctoral fellow, M. Sauvageau), Functional characterization of the lncRNA CRNDE in colorectal cancer.
Oral « Flash » Presentations
• Maria Galipeau (PhD, J. Estall), Molecular and physiological consequences of the diabetes-related PGC-1alpha GLY482Ser polymorphism.
• Samantha Boudreau (MSc, M. Cayouette), Uncovering the role of Podocalyxin (Podxl) in photoreceptor polarity and function.
Poster Presentations
• Michael Slattery (MSc, J. Di Noia), Examining the effect of AID dose on the immunoglobulin repertoire and transcriptome of germinal center B cells by single-cell analysis.
• James Eng (PhD, J. Estall), Hepatic PGC-1a impacts the secretion of SERPINA3N in response to obesogenic diet in mice.
• Rachelle Sauvé (PhD, F. Charron), Identification of novel scaffold proteins in Sonic hedgehog-mediated axon guidance.
• Marion Lacroix (PhD, T. Möröy), The X-linked gene for the helicase DDX3X is required for lymphoid differentiation and MYC-driven lymphomagenesis.
• Noé Guilloy (PhD, É. Lécuyer), Dynamics of local translation at the centrosome.
• Kavindu Puwakdandawa (PhD, F. Robert), Dissecting the role of an amphipathic alpha-helix inside the Med19 IDR in Cdk8 function and understanding the role of Cdk8 in transcription.
• Kevin Guo (PhD, M. Ferron), Endoplasmic reticulum Gla protein (ERGP): a novel vitamin K-dependent protein protecting beta-cells against calcium overfilling.
• Sara Banerjee (Postdoctoral fellow, A. Kania), Investigation of the impact of MYCBP2 loss of function on EPHB2 signalling, as a putative cause for neurodevelopmental defects.
Aimed at fostering the proliferation of innovative ideas and the development of collaborations between research laboratories, the FORUM is also an awaited opportunity to consolidate ties between members of the community.
"I'm delighted to see our community gathered in this way. It's a privileged moment that helps us improve communications and do better science. Our heartfelt thanks go to the IRCM Foundation and BMO Financial Group for making this moment possible," confided Jean-François Côté, President and Scientific Director of the IRCM.