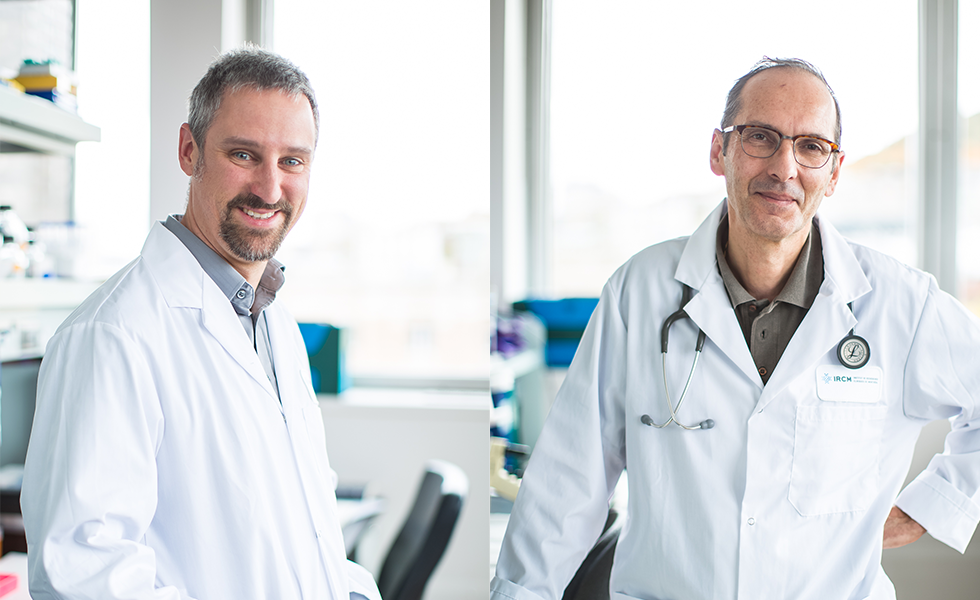 Congratulations to Mathieu Ferron and Rémi Rabasa-Lhoret, researchers at the IRCM, who have won Diabetes Canada's End Diabetes: 100 funds in support of their research on this disease.
"We are proud to see our researchers' work rewarded in this way. In addition to helping us pursue this work, which brings hope that the lives of patients living with diabetes will move a little closer to normality, this award is a testament to the excellence that prevails within our walls," said Jean-François Côté, President and Scientific Director at the IRCM.
Mathieu Ferron: better control of blood sugar
The award, which comes with three years of research funding, will allow Mathieu Ferron to further explore the role of osteocalcin, a bone hormone involved in the control of sugar and fat metabolism. With his team, Mathieu Ferron has been working for several years to shed light on little-known aspects of this hormone, thus paving the way for a promising new therapeutic avenue for better control of blood sugar levels in people living with type 2 diabetes.
Rémi Rabasa-Lhoret: reducing the risk of hypoglycemia
Rémi Rabasa-Lhoret, in collaboration with patient partners and researchers from Laval University and the University of Alberta, will look at ways to reduce the risk of hypoglycemia (abnormally low blood sugar levels) in patients with type 1 diabetes who use an artificial pancreas. Although artificial pancreas devices significantly reduce the risk of hypoglycemia, certain situations, such as exercise, are accompanied by an increased risk of hypoglycemia. This situation exposes people living with type 1 diabetes to multiple risks: discomfort, falls, injuries, coma, etc...
A disease that affects many families
The World Health Organization estimates that 422 million people worldwide suffered from diabetes in 2014 and predicts that it will be the 7th leading cause of death in the world by 2030. The burden of this disease on the daily lives of patients and their families is substantial, requiring constant monitoring. Nearly 90% of people living with diabetes have type 2 diabetes and just under 10% have type 1 diabetes.