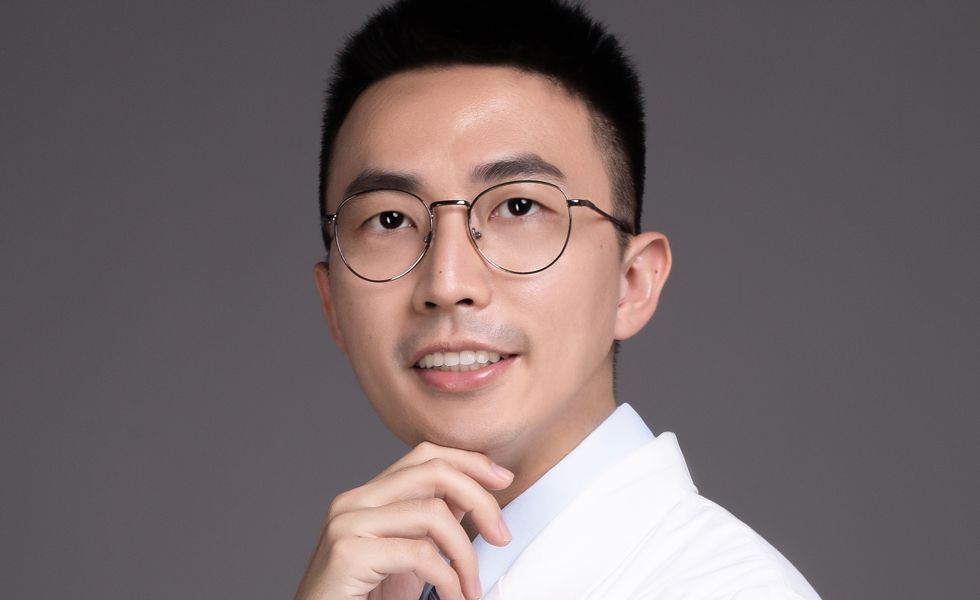 « I was immediately fascinated by the impactful clinical research conducted by Dr. Rémi Rabasa-Lhoret's team. It was exactly what I wanted to do and the IRCM felt like the perfect match for me. »
For over half a century, the IRCM has contributed to the development and training of generations of researchers from all over the world. Every year, talented and dedicated future scientists trust the IRCM to help propel their careers. Among them, discover Zekai Wu, a postdoctoral fellow in the IRCM Metabolic Diseases Research Unit, under the supervision of Dr. Remi Rabasa-Lhoret.

Tell us about you
My name is Zekai Wu and I am a medical doctor who is completing a postdoctoral fellowship in the team of Dr. Remi Rabasa-Lhoret at the IRCM. I am participating in exciting clinical research on cutting-edge diabetes technologies to help people living with type 1 diabetes to have better management of their blood sugar on a daily basis and to enhance their quality of life.
How did you catch the science bug?
I was born and raised in China. I was in my last year of medical school when I discovered research thanks to an international science camp called Wu Ta-you. This unique networking opportunity with internationally renowned scientists confirmed my passion for the beauty of science.
So, after graduating as a Medical Doctor, I naturally pursued a PhD. degree which led me to take part in different diabetes-related research projects. I learned that more than 80% of people living with type 1 diabetes did not reach the optimal blood sugar level, which can be debilitating in their daily lives, and puts them at risks for diabetes-related complications such as eye or kidney damage. One of the most promising approaches to tackle this problem is automated insulin delivery (AID) systems ̶ also known as artificial pancreas system ̶ the most advanced diabetes technology. At the time, commercial AID systems were not available in China, so I decided to introduce a home-made version (DIYAID), into my country by sharing freely with the diabetes community there. My studies and the free sharing of DIYAID had a significant impact with hundreds of people in China adopting DIYAID, which helped them achieve better blood sugar management and higher quality of life.

What brought you to the IRCM?
My work on DIYAID convinced me that technology could really be a life changer for people living with type 1 diabetes. Research in my country focuses more on basic rather than clinical research. Thus, I started considering going abroad to further my training in this field and to grow as a clinician scientist. I have long been impressed by the work of Dr. Rémi Rabasa-Lhoret and he is certainly a world leader in the field of AID. I attended his speech on exercise and type 1 diabetes at American Diabetes Association Conference in 2020 and was immediately fascinated by the impactful clinical research conducted by his team. It was exactly what I wanted to do and the IRCM felt like the perfect match for me.
I arrived in Montreal during the first year of the pandemic. It was in December 2020, and Montreal was in lockdown. However, what started as a challenge has become a wonderful life experience for me so far. I'm eager to push forward.
Tell us about your IRCM journey
At the IRCM, I met a team of professionals who instantly made me feel welcomed. The team has given me numerous opportunities to express my ideas as well as providing guidance to help me grow into an independent clinician scientist. Not only am I able to conduct research I am excited about, but as a physician, I am also provided with precious opportunities to get involved in clinical observation. The IRCM Metabolic Diseases Research Unit is strongly patient-oriented. So, I have been able to interact with our diverse patient partners, bettering my sense of what patients are mostly concerned about and providing me with a clinically relevant point of view.
I definitely hit the ground running, immersing myself very quickly in the work. I first-authored an article in the journal Diabetes & Metabolism and submitted three others. I also won several awards including the Eli Lilly Canada Postdoctoral Diabetes Fellowship and the Canadian Islet Research and Training Network (CIRTN) award. Finally, I was invited to act as a reviewer for grant competitions, which certainly added to my academic work experience. None of these would have been possible without Dr. Rabasa-Lhoret and my colleagues' wholehearted support.
Recently, I was among a very few people in North America to be invited to contribute to an International Consensus and clinical practice guidance on the DIYAID technology. The result was published on Lancet Diabetes & Endocrinology. This is definitely a gratifying international recognition of my academic and clinical expertise on DIYAID and an important milestone in my career path.
The IRCM is a very lively place. It is exactly what I needed to settle in a new town. I did not hesitate to actively participate in both virtual and in-person gatherings at the Institute, such as the Sci-POP competition (I won the 3rd place), the student ASSO's Happy Hour events, the Academic Affairs' information sessions, or even the IRCM Challenge, a sporting event to help raise funds for research conducted at the Institute. I met many people from different labs and got to know more about Quebec and Canada.
What are the next steps for you?
I plan to publish several other ongoing projects soon, and I hope to get a training scholarship next year.
Ultimately, my goal is to become an independent clinician scientist in the field of diabetes and advanced technologies. As a scientist, I plan to improve the usage and performances of advanced technologies targeting unmet needs such as blood sugar management after meals or physical activities. As a clinician, I hope to translate my research into real clinical benefits for both healthcare teams and people living with diabetes, to assist them in making the best possible use of advanced diabetes technologies. My long-term career will be dedicated to serve as a bridge between China and North America as I believe bringing together the strengths of both sides through collaboration could be strongly beneficial to our research field.
Tell us something special about you
My favourite season here is winter! I come from a warm place where there is no snow. One month after I arrived in Quebec last December, I decided to buy my first ski equipment, rather than renting, as a way to challenge myself and learn the joy of winter. Later in April, I wished the ski season could be longer, and therefore, purchased my ski pass for the next season right away; I fell in love with skiing and cannot complain anymore about Canadian winter! I am also learning French as my fifth language, which proves to be a real challenge. But I am using all possible options and I well intend to succeed!