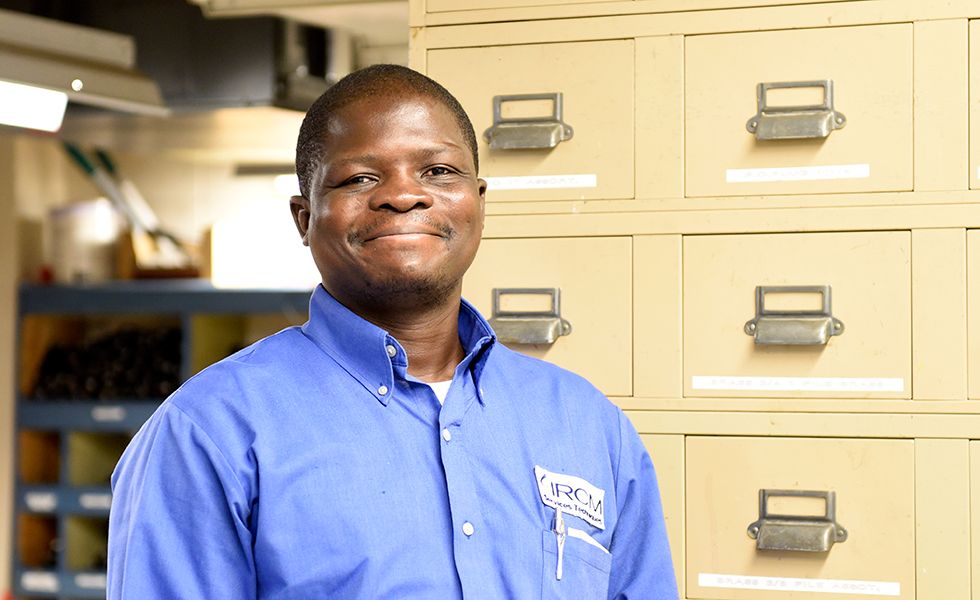 Sie Emile Hien, carpenter
Feeling at home

NB: This series of encounters highlights the diversity of the members of the IRCM community, the variety of their expertise and the depth of their commitment to their respective roles.
One could say that Émile is a newcomer to the IRCM, having joined us some seven months ago from his supervisor job at Home Depot. And yet, upon watching him evolve within our walls, one can sense that he's at ease, at home, as competent as he is affable. It's as if he's been here forever.
His job title, carpenter, only partially reflects the scope of his task, which he carries out diligently, in the company of his mentor François Bordeleau and under the direction of Stéphane Perras. Ensuring that the IRCM's premises and equipment remain in good condition requires consistency and planning.
''Our basic morning routine is based on the use of the Guide TI application. We plan our week, but, of course, all sorts of projects come up. So, we prioritize, starting with emergencies.''
Repairing holes in the walls, freshening up the premises with a fresh coat of paint, rearranging offices on demand - these are just some of the things Émile and his colleagues do in a typical week.
Émile is a natural, and is happy at IRCM. He says he finds the Institute to be a caring and peaceful environment, where individuals feel valued.
''What I like most here is the way people work together and encourage each other. It didn't take me long to fit in, and that's probably because we're so well received.''
Émile recounts an anecdote that seems to illustrate the atmosphere at IRCM.
''When I arrived, in my first two or three weeks, Dr. Côté would come to the cafeteria for his morning coffee, at the same time as me, and quite naturally we'd call each other by our first names, Jean-François, Émile, but I didn't know that he was the president of the Institute. So, I said, "Hello, Mr. Jean-François", but he said, "No, call me Jean-François, JF". And at IRCM, everyone is smiling and humble. You can feel the peace, it gives you a lot of confidence, and it helps you to develop.''
Far from his native Côte d'Ivoire, Émile has created a milieu for himself, a professional family at the Institute. In fact, he is much appreciated by his mentor François: ''Émile is a very good person, always smiling, polite, attentive, and always ready to help. He's a person you can trust. I wish him every success. ''
Good luck, Émile, and thank you for your commitment to IRCM!