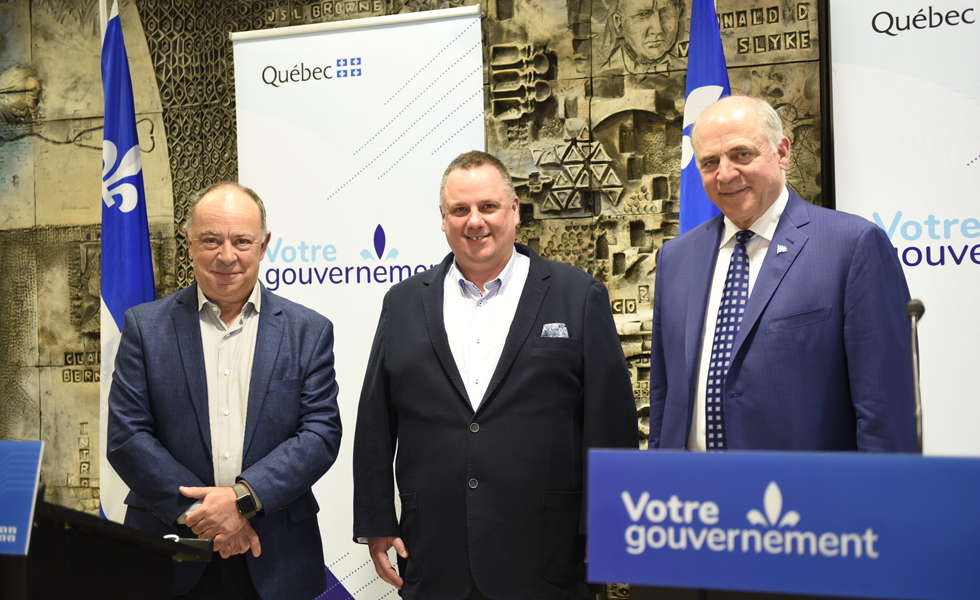 It is a rare occasion for a research and clinical institute such as ours to receive a joint visit from two of the most important ministers of the Quebec government. This is why there was a certain amount of excitement in our ranks on May 30, when the Ministers of Economy and Innovation, Mr. Pierre Fitzgibbon, and of Health and Social Services, Mr. Christian Dubé, held a joint press conference to announce grants totaling31 142 313. These funds will propel the IRCM's research and clinical activities until 2023-2024, for the well-being of the citizens of Quebec and elsewhere.

"With more than 165 research projects each year and numerous international collaborations, the IRCM is a model of excellence in biomedical research, as well as a source of innovation and inspiration for the scientific community in Quebec and around the world. We are therefore proud to renew our support for this strategic partner in research and innovation, which makes major scientific breakthroughs in life sciences possible,"
said Pierre Fitzgibbon, Minister of Economy and Innovation and Minister responsible for Regional Economic Development.

"While the importance of advancing knowledge but also care techniques has shown all its relevance, these sums will allow our researchers, our clinicians, and all their teams to continue their work on all fronts, whether it be in relation to debilitating diseases such as cancer, metabolic diseases rare diseases, among others, and cutting-edge biomedical technologies such as RNA, but also in terms of clinical research, care and follow-up of patients served by the IRCM," said Dr. Jean-François Côté, Scientific Director and Interim President of the IRCM, at the press conference.