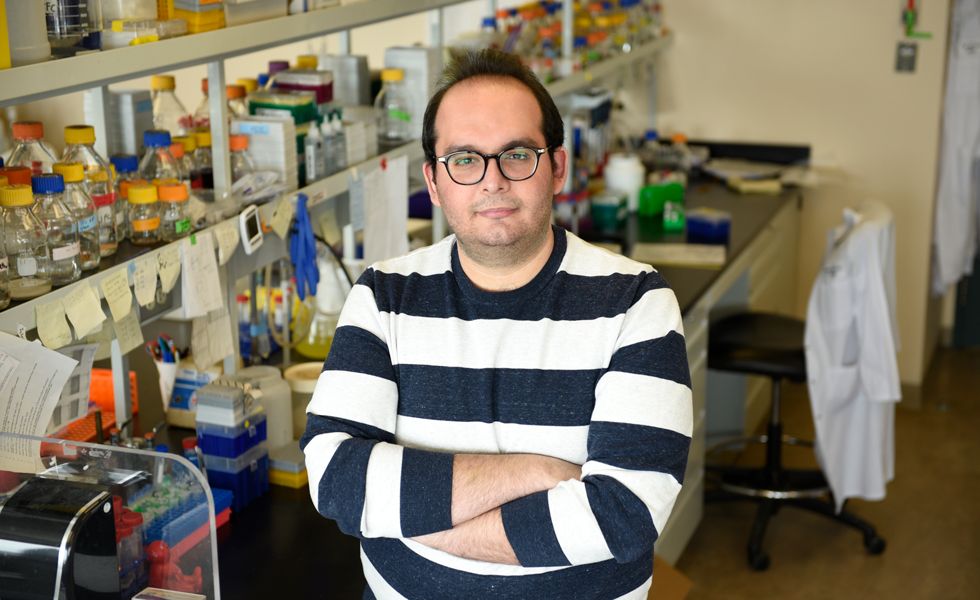 "I explored different areas in cancer research until I found the most interesting and intriguing puzzle for me, the metastatic relapses." Islam Elkholi
For over half a century, the IRCM has contributed to the development and training of generations of researchers from all over the world. Every year, talented and dedicated future scientists trust the IRCM to help propel their careers. Among them, discover Islam Elkholi, who received a Leadership Scholarship from the Université de Montréal, among other distinctions. Islam a graduated Medical Doctor who joined the IRCM Cytoskeletal Organization and Cell Migration Research Unit as a Ph.D. student under the supervision of Dr. Jean-François Côté and Dr. Morag Park of McGill University.
Tell us about your research work
When I was in medical school, I discovered my passion for scientific research. Becoming a physician scientist became my goal. I explored different areas in cancer research until I found the most interesting and intriguing puzzle for me, the metastatic relapses. Approximately one third of breast cancer patients suffer from metastatic relapses that happen months to years after diagnosing the primary cancer. The "how" or the mechanisms behind this phenomenon are not well understood, but it represents one of the most dreadful news for cancer patients. It is proposed that the cancer cells can leave the breast - the primary tumour site - and go to colonize other organs such as the bones and the lungs. There, they stay dormant before waking up to provokes the metastatic relapse. During my PhD, I have focused on studying this enigmatic dormancy phenomenon on a molecular level. Personally, working on such a problem is driven by curiosity, in the face of what looks like an adaptive strategy of cancer cells, and compassion for the affected patients.
Tell us about your IRCM journey
I started at the IRCM in 2016 as a student in the one-year Molecular and Cellular Medicine (MCM) Master's program. I enjoy being in a diverse environment where I can get challenged and learn new things out of my comfort zone. As an international student from Egypt, I was drawn towards the IRCM because of this program's structure that clearly provided exposure to different areas in molecular biology, something I did not experience as a medical graduate. At the IRCM, on one floor you may find a laboratory working on a fundamental scientific problem, while the neighbouring laboratory is focused on disease-oriented clinical research such as diabetes or cancer. Having the two flavours in one place is a privilege. The IRCM is also a very diverse and cosmopolitan place, with students coming from all over the world. Through the years, I made friends who contributed to making my transition as an international student easier and the whole journey more enjoyable.
I am very passionate about communicating science to the public. I have been a freelance science writer for about six years now. I summarize highly technical research articles in different fields of science and medicine to lay audience in the form of short 200-word articles. This has helped me learn how to communicate the science I am doing in the laboratory outside the academic circles. I also created Basic and Clinical Oncology Seminar Series (BCO), a seminar series where clinicians and fundamental researchers working on the same subject are brought together to discuss and further reflect on specific puzzles in cancer research. I have been very privileged to be supported by my PhD mentor, Dr. Côté, and my mentor on the clinical side, Dr. William Foulkes to develop the BCO series.
I am also grateful to have been supported in my academic journey by scholarships from the IRCM foundation, the Fonds de recherche du Québec – Santé (FRQS), and the Université de Montréal. Recently, I was very honoured to be the recipient of a scientific outreach scholarship and a leadership scholarship from the Faculty of Medicine of the Université de Montréal, in recognition of my efforts to bridge the gap between research and the public.
What is the next step for you?
During the last year, I published two articles on clinical cancer genetics, as a parallel work to my main PhD project. I was quite lucky to get such an opportunity to explore a new aspect for me in cancer research and to broaden my scope. I am currently writing my thesis and preparing the first manuscript resulting from my work. I am looking forward to getting that done.
I deeply enjoy science and medicine and I get stimulated by being in both settings. Now that I am approaching the end of my PhD and seeing the light at the end of the tunnel, I am considering going back to the medical route and to resume my clinical training. I am not sure where my path will take me. It is uncertain in a stressful and thrilling way at the same time. In any case, I hope to end up doing something that I enjoy, and I believe that's what matters.
Aside from science…
Outside of the academic life, I am fond of live jazz/blues and oriental music instruments such as the oud and the qanun. I am trying to learn how to play the oud but unsuccessful so far! I also enjoy cooking traditional Egyptian recipes every now and then.